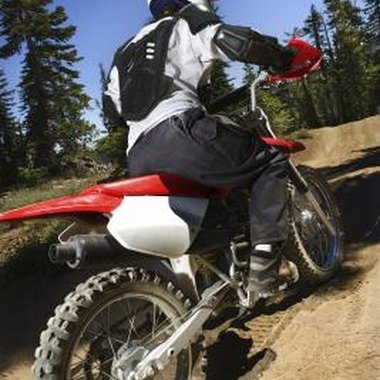 Motocross racers and off-road vehicle operators have plenty of riding options throughout the country, and Maryland is no exception. Home to motocross clubs and host to some national competitions, Maryland has a number of motocross tracks and trails to choose from. This includes state parks, private parks with trails and traditional motocross tracks.
State Parks
Maryland's Department of Natural Resources (dnr.state.md.us), which regulates state parks and other public lands, has designated a number of parks and trails as open to motocross riders. This includes about five miles of trails at Garret State Forest, three different trails in Savage River State Forest, and nearly 15 miles of trails at Potomac State Forest. It is important to note that only designated trails within these parks permit off-road and motocross vehicles. Also, the Department of Natural Resources recommends that riders call ahead to each state park before showing up to ride, as trails are subject to closure without notice.
Closed Trails
Maryland riders should also keep in mind that the Department of Natural Resources has already closed three once-prominent motocross trails on public lands as of July 2011. Green Ridge Trail at Green Ridge State Forest, Chandler Trail at Pocomoke State Forest and Poplar Lick Trail at Savage River have all been permanently closed, though they were once open to motocross riders. The DNR made these decisions based on environmental assessments of the trails.
Private Parks
Many riders choose to ride on private trails instead of in public parks. A number of private properties allow motocross vehicles, including the Southern Maryland ATV Park (atvpark.tripod.com) in Budds Creek. A family-oriented park, it offers 22 miles of heavily-forested trails, in addition to a kiddie-track and a full-size motocross track. Notably, the facility only permits four-wheel ATVs and dirt bikes, and riders must wear full helmets and safety equipment at all times when riding. The park typically only operates on Fridays and weekends, with gates that open at 10 am.
Motocross Tracks
There are also a number of private motocross tracks across the state for those who aren't particular about changing scenery or who want to practice on a certified motocross track. The most notable private track in Maryland is Budds Creek Motocross Racetrack (buddscreek.com), also located in Budds Creek. Rather than offering miles of untamed trails, this private facility offers an official motocross track, used in 2011 for the Pro National Championship. Any motocross rider is welcome to rent days at the track when a race is not in session. Prices cost $500 for up to 10 riders as of July 2011, and guests were welcome to camp at the facility overnight.
Photo Credits
Jupiterimages/Comstock/Getty Images