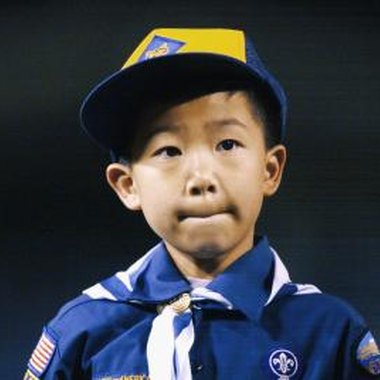 Mothers play a big part in Cub Scout dens. They often lead the den in its activities, provide help and give boys rides to and from events. That's why Mother's Day is a time when Bear Cub Scouts should honor their mothers. This is accomplished through lessons about what their mothers do for them as well as making personalized gifts.
Understanding
Bear Cub Scouts are typically around 9 years old. Their mothers have likely already played a big part in their lives, but the boys might not have realized it or fully appreciated all their moms have done for them. That's why a Mother's Day lesson begins with learning about what their mothers typically do. Make a list of every thing she does. Examples include helping with homework, preparing meals, doing laundry, giving rides and providing love and support. Once the Bear Cub Scouts understand just how much their moms do for them, the need to honor this becomes clearer.
Pin
Bear Cub Scouts can make a gift that their moms wear around town and to scouting events. Glue a heart to a ribbon that is secured to their mothers' tops, using a safety pin. Each scout personalizes his Mother's Day pin, adding words and images specific to his relationship with his mother. Ideas for the hearts are a picture of their moms or the word "Love." Ideas for the ribbon include the Cub Scout logo, as well as drawings and words that show the scout's appreciation of his mom.
Card
Making a personalized card shows a mom that her son went to great effort for her. Fold a piece of paper in half and then write a special message on the front and inside. Like the pin, a card is decorated in any way the Bear Cub Scout pleases, including drawings, pictures and words. This lets the scout write a personalized message and get creative, using his art skills to make something unique.
Coupons
If the Bear Cub Scout's mom does the shopping, she's used to looking for coupons. However, rarely does she get a coupon she can use on something just for her. That's why making personalized coupons is a nice surprise. After learning about the things mom does for him, a Bear Cub Scout constructs coupons that offer to do services for her, such as doing the laundry, vacuuming the living room, giving a shoulder massage and taking out the trash. This gestures shows the scout appreciates what his mom does for him and that he wants to help out in the chores.
Photo Credits
Stephen Dunn/Getty Images Sport/Getty Images