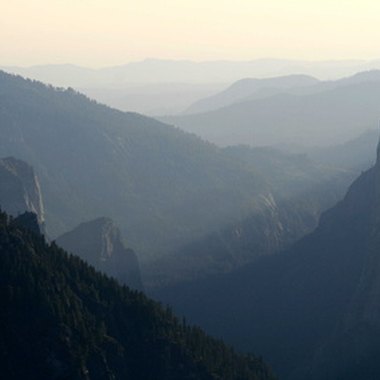 As one of the most popular wilderness preserves in America, Yosemite National Park sees more than 3.7 million visitors per year and has a substantial number of lodges, resorts and hotels to handle them. Travelers who visit Yosemite on a budget have no need to rough it at a park campground, however. Accommodations at simple, inexpensive motels and other types of cheap lodgings are available both inside and outside of the park.
Considerations
Yosemite National Park encloses almost 1,190 square miles of territory, so a poorly chosen motel might prove to require as much as three hours of driving to get to a given point of interest. The Yosemite Valley, which dominates the middle of the park, has the largest selection of accommodation options both inside and outside of the park, but that area is still a 15-mile drive over often winding roads to features like the South Fork of the Merced River and Mariposa Grove. Visitors should cross-reference any motels they might want to stay at against a map of the park.
Comfort Inn of Mariposa
Mariposa's Comfort Inn is a logical budget choice for those most interested in the area around the Arch Roch Entrance of Yosemite National Park. Housed in a white, three-story, motel-style building with an ample parking lot, the hotel is in the midst of Mariposa's historic district and around the corner from a mid-19th century courthouse. The rooms are bright and furnished in a simple but pleasant fashion. Located on Route 140, the Comfort Inn is a direct 30-mile drive from the park.
Curry Village Hotel
Curry Village is reminiscent of some of the cheap roadside tepee lodgings found on Route 66 during its heyday, and is only one step above the rigors of camping. The "village" consists of a motel, rustic rental cabins and more than 300 log-and-canvas tent cabins. All accommodations are simply but amply furnished with wood furnishings and metal-frame beds. Whether it be in the motel proper or in one of the tent-cabins, staying at Curry Village is the most economical option inside the Yosemite Valley. However, compared to lodgings outside the park, it is pricey considering what one gets.
El Mono Motel
This family-run motel and adjoining coffeehouse are situated on the east side of Yosemite National Park, which while fairly remote from the Yosemite Valley is near Tuolumne Meadows. Fronted by a porch, garden and barbecue area, the El Mono is a small, 11-room motel featuring rooms decorated in an eclectic style and in vibrant color schemes. The hotel closes for the winter season -- typically it is open from late April through late November.
Photo Credits
Yosemite Valley 2 image by Robert Ulph from Fotolia.com