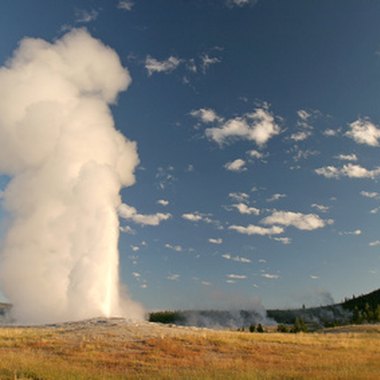 West Yellowstone, Montana, is not only directly outside the West Entrance to Yellowstone National Park but is also serviced by its own airport, making it an important entry point for park visitors. However, there is no need to move to lodgings inside the park after you arrive, as West Yellowstone has a range of hotels and motels that are both highly regarded and offer something more than just a place to sleep for the night.
Considerations
Although West Yellowstone is adjacent to the West Entrance to Yellowstone National Park, it is still a considerable distance from many of the park's major features. Old Faithful is a 20-mile drive from town, while points like Yellowstone Lake are 40 miles away and some features are even farther. To minimize driving time, visitors to the park who choose to stay in West Yellowstone may want to consider the activities available at, through and/or around their own lodgings and spend one or two days of the trip closer to the hotel.
Bar N Ranch Hotel
Labeled the best lodging choice in the West Yellowstone area by Frommer's, the Bar N Ranch will satisfy the desires of any traveler looking for an Old West ranching experience. Situated on a 200-acre property the Madison River winds through, the ranch is a place of river stone fireplaces, lamps fashioned from antlers, hardwood floors and whitewashed or log walls. Accommodations at the ranch consist of seven rooms in the main lodge building, plus seven rental cabins.
Holiday Inn SunSpree Resort
West Yellowstone's outpost of the Holiday Inn chain offers spacious, comfortable mid-range hotel rooms with plenty of amenities. The hotel also has a handful of programs that might appeal to families, such as the free Grizzly & Wolf Discovery Center and an interpretive ranger program conducted through the West Yellowstone Chamber of Commerce. While the exterior of the building might look like any old Holiday Inn, the interior boasts touches like the restored railway club car in the center of the hotel's restaurant.
Moose Creek Inn
Although the exterior of this lodging harks back to motels from the 1950s, the interior offers modern, comfortable rooms, each individually decorated in a Western motif. Moose Creek offers accommodations in the main motel building and in its rental cabins, and the latter come equipped with kitchenettes. For especially large families or groups, Moose Creek also has a four-bedroom condo for rent only three blocks from the main complex. Overall, Moose Creek offers lodgings Frommer's rated as "Highly Recommended" at reasonable prices.
Photo Credits
old faithful geyser image by Melissa Schalke from Fotolia.com