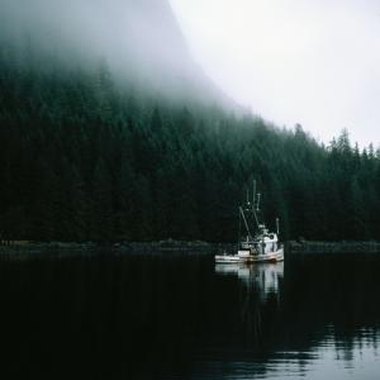 Don't be surprised to find yourself hanging on to a dog sled with a pack of excited huskies zipping you along a snowy trail. You might even let your imagination wander a bit and pretend you are part of the Iditarod sled-dog race. Wasilla is a restart location for the annual event. Offering a taste of the wilderness tempered by civilization, the growing town of 7,000 plus offers the chance to fish on an Alaskan lake, pick up some native artwork and then spend the night in comfort at a local motel or inn.
Best Western Lake Lucille Inn
You won't have to travel far with your fishing gear if you stay at the Best Western Lake Lucille Inn. Start your day with a cup of coffee overlooking the expansive lake while you decide where your day will take you. Head into town to do some shopping in Wasilla, or visit the Iditarod Trail Sled-Dog Race Headquarters to learn about the famous race. Enjoy dinner in town, including some unusual offerings such as Chepo's Mexican food or Japanese food at a combination bar/lounge called Tokyo. Work off some of those calories in the fitness room, and then relax in the property's dry sauna. Keep in touch with the outside world with complimentary wireless Internet service. A 24-hour front desk is available for tourist information and to help book local area excursions.
Grand View Inn & Suites
Located two miles east of the center of Wasilla, the Grand View Inn & Suites straddles the increasingly fine line between hotel and motel quite nicely. The earth-toned low rise not only offers reasonably priced rooms, but is home to the Glacier Canyon Grill, one of the local dining hot spots. Hotel rooms, some with in-room jetted tubs, and one- and two-bedroom extended-stay units with full kitchens are offered. Take a dip in the year-round indoor heated swimming pool, spend some time on the treadmill in the fitness center, or find some snacks or trinkets at the on-site gift shop. An ATM is available in the hotel lobby. Join the locals in a round of karaoke on Friday and Saturday nights or, if you are feeling lucky, join the weekly poker game on Mondays, both available at the Glacier Canyon Grill.
Agate Inn
Indulge those childhood fantasies about reindeer by staying at the Agate Inn, just three miles east of Wasilla. The Agate Inn reindeer herd started from just two -- Crystal the female and Silver the buck. That was in 1999. Thanks to their efforts, the herd now numbers seven. Bring some dandelions when you visit the herd and you'll have friends for life. The entire property consists of hotel rooms, suites and vacation homes nestled between the trees on 16 acres. Several of the rooms overlook the reindeer paddock. Though it may feel like you are out in the middle of nowhere, modern amenities such as satellite TV and high-speed Internet are available. A 1,800-square-foot gathering room is available for business meetings or celebrations. Continental breakfast is included with the nightly rate.
Alaska's Select Inn Motel
Less than three miles east of Wasilla's town center, Alaska's Select Inn Motel offers studio and one-bedroom units with full kitchens, suitable for long- and short-term stay. Catering to both the business and leisure traveler, this motel also offers RV parking for those who might want a break from being on the road. No pool or restaurant, but the motel does offer an on-site laundry and business center. Nearby restaurants in Wasilla include Evangelo's, Hacienda, the Windbreak Cafe and Peking. If you are in need of a pancake fix, your friendly neighborhood IHOP awaits.
Photo Credits
Jupiterimages/Photos.com/Getty Images