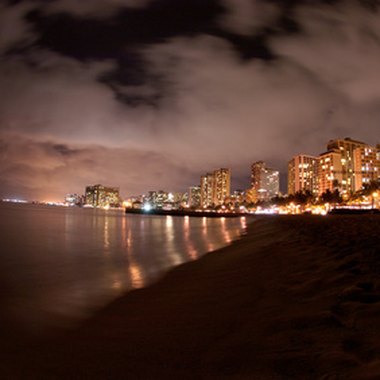 Hawaii's iconic Waikiki Beach, with its incandescent-blue waves and urban backdrop of high-rise hotels, has been immortalized in countless movies depicting sun-kissed surfers, orchid-adorned wahines and camera-toting tourists sweating in loud aloha-print shirts. Waikiki was created by a volcanic eruption, and Polynesian travelers began settling the area sometime between 800 and 1200 A.D. Today's visitors save money by staying in motels. But don't look for sprawling, auto-friendly accommodations here. Waikiki motel-style lodging resembles the skyscrapers of neighboring hotels -- land scarcity on islands means that most buildings have a small footprint. In most cases, the difference is the price and simplicity of amenities.
Sunshine Courtyard
Waikiki's high-energy beaches can be exhilarating; visitors spend the day surfing, building sand castles, stand-up paddle boarding or parasailing over the island's aquamarine waters. Retreat to the sunny, quiet courtyard at The Breakers Hotel to recuperate, knowing that room prices aren't breaking the bank and parking is free. Rooms feature kitchenettes and air conditioning, and wireless Internet access near the pool. The on-site restaurant offers Japanese beer, hot and cold sake, and regional desserts including sweet red bean soup.
Standing Tall
Maile Sky Court rises from downtown Honolulu like a giant rocket ship, featuring nearly 600 budget-friendly rooms and suites for guests. Windows look out onto the city, Oahu mountains or Waikiki Beach, and guests can book suites equipped with a kitchenette and living room area. Guests access a swimming pool, hot tub and fifth-floor sun deck -- but the real draw is Waikiki Beach just three blocks away. Stock up on sunscreen at the Maile Sky Court gift shop, then head to the beach for strawberry-swirled lava flow cocktails with the money saved on budget accommodation.
Private Balcony
The modest Waikiki Prince Hotel contains 24 rooms, each offering a private balcony, microwave, and refrigerator for storing leftovers or heating up inexpensive snacks. Guests request suites with kitchenettes stocked with pots, pans and utensils, handy for cooking fresh ahi caught on holiday fishing charters earlier that day. Rooms lack telephones, but the front desk has a guest line that's sometimes available for use, and staff members take phone messages for guests.
Family-Owned
The Fong family has owned and operated the Royal Grove Hotel and apartments for years, throwing potluck dinners, ukulele sing-alongs and other events to help guests get acquainted. Not all rooms have air conditioning, so guests worried about Hawaii's tropical humidity should request it. Rooms come equipped with kitchenettes and some rooms have balconies. Less than one mile away from Waikiki Beach, the Royal Grove Hotel has convenient access to the area's shops, surf breaks and restaurants.
Photo Credits
waikiki beach at night image by NorthShoreSurfPhotos from Fotolia.com