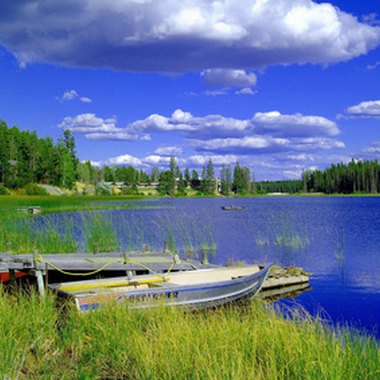 Motels in Vernon, British Columbia most readily cater to tourists who are operating on a budget but still wish to be close to the many events and attractions that can be found here throughout the year, from pristine lakes and beaches to the largest winter carnival in Western Canada. Travelers have a choice between nationally known brand-name motel chains or local mom-and-pop type spots; regardless, both provide the basic amenities and friendly service that visitors have come to expect.
Tiki Village
The Tiki Village prides itself on offering a taste of Polynesia in the heart of Okanagan Country, with torch-lit pathways and bamboo-style fences. The property provides easy access to downtown Vernon, including area attractions like the Allan Brooks Nature Center and Vernon Farmer's Market. Guests can stroll the courtyard, eat lunch on outdoor picnic tables, lay out by the pool or take a dip in the Jacuzzi. An on-site fitness center features free weights and nautilus equipment, while children can occupy themselves on the motel's playground. Additionally, business travelers can make use of a conference room with 20-person capacity and audio-visual equipment. Each guest room has a pool view and private balcony, posteuropedic mattresses and decorative South Pacific touches like bamboo chairs and shoji screen doors. Executive suites with kitchenettes are also available, and interested parties should inquire about packages that include ski passes and tickets to local theater shows.
Schell Motel
The Schell Motel is convenient to local points of interest like Twin Creek Ranch, Hunting Hawk Vineyards and the historic Mackie Lake House. Golf lovers are also close to several well-manicured courses, including the Royal York Golf Club and the Vernon Golf and Country Club. Property amenities include a barbecue area, whirlpool and outdoor heated swimming pool with a slide surrounded by deck chairs and tables. Corporate travelers can also use a small business center off the lobby with computer, printer and wireless data connection. For dining, innumerable restaurants ranging from Mexican to Asian to traditional Canadian are within walking distance. Standard guest rooms feature splashes of color like potted purple azaleas out front and mustard-colored walls inside. Guests can choose between one queen or two full-size beds. Suites with full-size kitchens are available on request. In addition, special discounts are offered for senior citizens and students.
Super 8 Vernon BC
The budget-friendly Super 8 Motel is conveniently located off Highway 97 near countless shops and eateries, while attractions like the Vernon Performing Arts Centre, Lake City Casino and Vernon Multiplex Arena are just a few blocks away. In addition, a Dairy Queen and Denny's are directly adjacent to the property, while the nearby Joey's Seafood Restaurant and White Spot Family Restaurant offer discounts of 10 and 15 percent, respectively, from the dining bills of motel guests. Tourists can make use of an indoor swimming pool and hot tub open 10 a.m. to 10 p.m., 24-hour front desk, plenty of RV and truck parking, and a free continental breakfast served each morning. All rooms are nonsmoking and feature 27-inch cable televisions, refrigerators, modem lines and unlimited roast coffee. Guests can also earn Wyndham Rewards Points here, which can be redeemed for things like free stays and airline miles.
Vernon Travelodge
The Vernon Travelodge, also a Wyndham property, is situated in the heart of downtown on the corner of 28th Avenue and 30th Street, close to tourist destinations like the Greater Vernon Museum and Archives, Davison Orchards and Outdoor Discoveries, which offers nature tours. An airport shuttle is available, although an extra fee applies, while other motel amenities include a seasonal outdoor pool with sun deck and free morning newspapers in the lobby. An array of family-style restaurants and bar/lounges are in the vicinity, as well as recreational opportunities like fishing and hiking. Guest rooms are basic, with climate controls, mini-fridges and free local telephone calls. Both smoking and nonsmoking rooms can be requested. Children under the age of 18 stay free with a paying adult, and no pets are allowed on the property. Additionally, room rate discounts are available for AAA members, government or military travelers, seniors and AARP cardholders.
Photo Credits
lac le jeune, british columbia image by Alan James from Fotolia.com