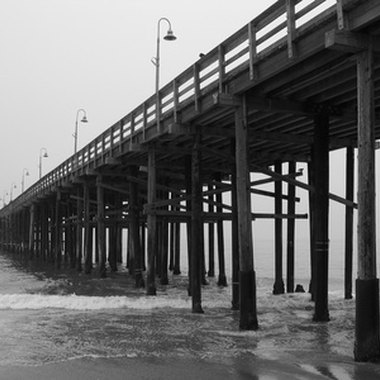 Visitors to Ventura, California, can surf at the iconic California Street beach break or fish for salmon and sea bass in the waters encircling the nearby Channel Islands. On land they can hike the area's quiet mountain trails, or poke around the vintage and antique shops in Ventura's revitalized downtown district, which also features health-conscious cafes and upscale martini bars. Budget-conscious travelers can choose from a variety of motels when staying in Ventura.
Crystal Lodge Motel
Crystal Lodge Motel offers basic amenities including free wireless Internet, but an additional perk includes access to the motel's full kitchen. Some rooms have kitchenettes equipped with refrigerators and microwaves. You can request coffeemakers and toasters, and some rooms welcome pets. Casa de Soria Mexican restaurant, which serves hot, salty tortilla chips and authentic salsas, is less than a mile away. While the motel's Thompson Boulevard location makes it centrally located near State Beach, downtown shops and the scenic U.S. 101/Ventura Freeway, keep in mind that after nightfall the area can sometimes feel seedy, with occasional sleeping vagrants and cruising police patrols.
Motel 6 Ventura Beach
Motel 6 Ventura Beach offers safe, serviceable rooms at budget prices on East Harbor Boulevard, including free basics such as coffee, local calls, cable and outdoor pool. The Motel 6 chain also maintains a "kids stay free" policy. The hotel is within the tightly knit Pierpont neighborhood, offering visitors the opportunity to join Ventura residents in walking their dogs, riding beach cruisers or skateboarding down the main drag in search of good surf. The Ventura Pierpont Beach, with its surf breaks and island views, is within walking distance. You'll have easy access to the lengthy promenade extending to the city's northernmost section, with views to the coastline and foothills, access to the Ventura pier and plenty of mom-and-pop restaurants.
Vagabond Inn
The restaurant at the Vagabond Inn is a popular greasy-spoon eatery with locals jonesing for chicken-fried steak, meatloaf or loaded breakfast plates. The motel itself offers big-rig parking, free Wi-Fi, breakfast and weekday newspapers, and microwaves in all guest rooms. There's a swimming pool and spa, and kids under 18 stay free with parents. You're within walking distance to downtown Ventura, including nearby Plaza Park, the historic Ventura Theatre and plenty of shopping.
Inn on the Beach
Rooms at Inn at the Beach generally run $20 to $30 more per night than standard rooms in the other motels, but can be worth the price for its safe location and ocean views. The inn is situated at the end of Seaward Avenue a few blocks south of the San Buenaventura State Beach volleyball courts and sand dunes. The inn offers continental breakfast and free Internet access. Extra comforts include whirlpool tubs and fireplaces. It's a quick stroll to neighborhood eateries, including Duke's Griddle 'n' Grill, which serves fish sandwiches and cold pitchers of beer.
Photo Credits
pier, ventura california image by JJAVA from Fotolia.com