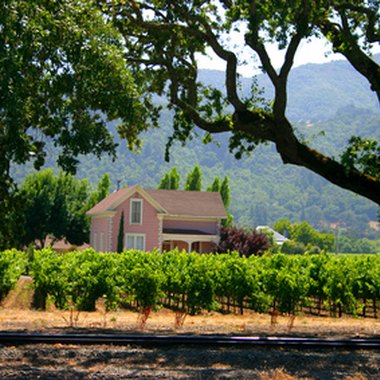 California's wine country attracts visitors with its rolling foothills, winding rivers and lush wineries featuring old family names, trendy boutique vintages and locally sourced food. Native American tribes populated the Sonoma Valley before Spanish missionaries began developing the area in 1823, protesting colonization by burning the first mission established there. That same year, Franciscan priests planted the valley's first grapes for wine, and a Hungarian nobleman established Sonoma's first winery in 1857. Visiting the region's numerous wineries can be costly, so travelers may want to save money by booking budget accommodations at a local motel.
Extra Touches
The slower pace of wine country, which revolves around the gentle ripening of seasonal fruit, encourages visitors to savor the natural world. Outdoor festivals celebrating grapes, olives and other wine country delicacies are plentiful, and Sonoma's many farmers markets are testament to the valley's bounty. The Sonoma Creek Inn helps guests enjoy the outdoors with patios, garden fountains and assistance locating the neighborhood's best al fresco cafes. Free wireless Internet access, local newspaper, coffee and tea help save extra pennies, too. Guests can enjoy extra touches including vaulted ceilings, handmade decorations and original artwork.
Central Location
The Sonoma Valley serves as a gateway to San Francisco, the Northern California coastline, sleepy Santa Cruz, Napa Valley and other attractions. The Rodeway Inn, located in Sonoma County, lies two miles from Sonoma State University – a convenient stop for visiting parents, prospective students, university guests or business travelers. Internet access, parking, continental breakfast and newspapers are free for guests. Visitors have convenient access to the Charles M. Schultz Museum, Safari West Wildlife Preserve and area wineries.
Garden Courtyard
Sonoma County's mild climate and fresh air remain a soothing part of the wine country experience. After a long day at local wineries, golf courses or semi-rural beaches lined with redwood trees, unwind at El Pueblo Inn's outdoor courtyard featuring a swimming pool, hot tub, cabana lounge and gardens. Rooms face the interior garden, and some rooms feature private patios and fireplaces for snuggling up with a glass of wine. Free continental breakfast includes fresh-squeezed orange juice, locally made pastries and fresh fruit.
Booking
While Sonoma Valley attracts visitors year-round, wine country lodging tends to get booked up quickly during seasonal events including harvest, Sonoma Valley Olive Festival in January and February and March's Sonoma International Film Festival. Additionally, lodging can be hard to come by during special "Passport" events hosted by wineries for Sonoma Valley visitors who've purchased annual passes for barrel-tastings, wine-maker talks and musical performances.
Photo Credits
sonoma and napa valley, california image by Chee-Onn Leong from Fotolia.com