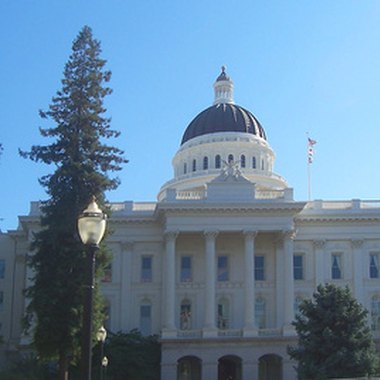 As California's capital city, Sacramento draws business and leisure travelers. Attractions like the city's zoo, the Old Town historic district and more than 15 museums provide leisure guests with much to do on their trips, while the Sacramento Convention Center draws business travelers to the city. Accommodations often come with big-city price tags, but budget conscious travelers in 2010 can find options under $100 a night in the motels in and around the city.
Chain Motels
Because of its size, Sacramento has many chain motels. The Econo Lodge Sacramento sits just a few blocks away from the Sacramento Convention Center and within a five-minute drive of the historic Old Town district. To make room for larger groups, this motel offers connecting rooms and suites. Super 8 has four locations in Sacramento, with locations near the airport and Discovery Park. While the Super 8 hotels have standard motel amenities, the location on El Centro Road near I-80 earned two diamonds from AAA, indicating they provide clean and comfortable rooms for the price.
Pet Friendly Motels
If you will be traveling with your dog, consider one of the pet-friendly motels in Sacramento to avoid the cost of boarding your pet. The Days Inn and Suites Rancho Cordova welcomes pets for an additional $20 per pet per night as of 2010. This motel sits just a half-mile from downtown Sacramento and near dining options, including Subway and Dominos Pizza. Econo Lodge also welcomes pets for an additional $6 per night per pet. Travelodge Sacramento/Rancho Cordova, located conveniently along I-50, also allows pets for $10 per pet per night.
Family Friendly Motels
America's Best Value Inn offers affordable accommodations near Old Town Sacramento and the Sacramento Zoo for families visiting the city. An outdoor pool provides on-site recreation for the entire family, while mini-refrigerators in the rooms let parents keep snacks for their children. If your travels are taking you downtown, consider booking the Governors Inn Hotel near the capitol building. Two-room suites in this motel complete with sofa beds provide a little more space for families traveling together, while microwaves and refrigerators make snacking simple. Governors Inn Hotel received three diamonds from AAA.
Finding Greater Discounts
If you have membership with an organization that provides a travel benefit, such as AARP or AAA, ask about discounts when you book your room. Many Sacramento chain motels, including Super 8 and Days Inn, offer these. Some, like Days Inn, offer a percent off of your stay if you book two or more nights. Other hotels offer discount clubs for frequent travelers. For instance, America's Best Value Inn offers a Value Club, which provides discounted rates, free room upgrades and discounts on car rentals to members.