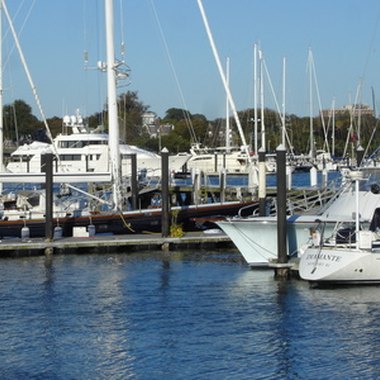 The Newport, Rhode Island, area -- comprising the towns of Newport, Middletown, Tiverton, Little Compton, Jamestown and Portsmouth -- offers a choice of beaches, including King Park, Heads, Atlantic, Easton's and Third Beaches, and the shoreline at Fort Adams State Park. The Newport area also offers visitors a choice of motel accommodations. Although the area includes towns on different islands and the Newport Peninsula, the main highways allow easy access to Newport and area beaches from motel accommodations in nearby towns. [reference: AAA maps & Resource #10]
Bay Willows Inn
The Bay Willows Inn offers budget accommodations just minutes away from Newport. Guests have a choice of 21 rooms with basic amenities and room refrigerators and microwaves. On-site parking adjacent to the rooms is free for motel guests. The inn's complex includes a grill for outdoor meal preparation. Local restaurants in the area include Coddington Brewing Company, Newport Blues Cafe, International House of Pancakes and Chili's.
Motel 6 Newport #1219
The Motel 6 in Newport features basic accommodations at budget prices. Rooms are located just over two miles from the Newport Marina, four miles from the Beechwood Mansion in Newport and approximately 18 miles from Magoni's Ferry Landing in Somerset, Massachusetts. Guests arriving at the Newport State Airport have a short three-mile drive to the motel. Children stay without charge in rooms, and well-behaved pets are also welcome without charge at this Motel 6 location. Local eateries within a few minutes' drive include the Red Parrot Restaurant, The Black Pear and Bannister's Wharf.
Paradise Motel
The Paradise Motel on Aquidneck Avenue in Middletown offers budget accommodations located just less than one mile from local beaches. The rooms have basic sleeping accommodations and a television set. Downtown Newport shopping and dining are located approximately three miles from the motel. On-site parking is free for overnight guests. All rooms are reserved for nonsmoking guests, and pets are not allowed at the motel. Motel-area restaurants include the Ming Moon Chinese Restaurant, Atlantic Grille and the Aquidneck Restaurant and Pizzeria.
Founder's Brook Motel & Suites
The Founder's Brook Motel and Suites, located in Portsmouth just minutes away from the famous Newport mansions and a five-minute drive from Bristol and Roger Williams University, offers a choice of room or suite accommodations. Suites include kitchenettes, private bedrooms and living rooms with sleeper sofas. Complimentary on-site parking in front of suites and rooms is featured. Local restaurants include the Portsmouth Brewery, the Friendly Toast and the Library Restaurant, located a short drive from the motel.
Sea Whale Motel
The Sea Whale Motel, on Easton's Pond off Aquidneck Avenue in Middletown, offers visitors a choice of rooms with water views, room decks and adjoining room accommodations. All rooms have private entrances, refrigerators and complimentary high-speed wireless Internet service. Parking for two cars is included in room fees. Newport tourist sites, including the Newport Cliff Walk Trail and Newport Beach, are only a short walk from the motel. Downtown Newport eateries and nightclubs are approximately a five-minute drive from the motel, and dining at Middletown restaurants is steps away.
Photo Credits
newport in rhode island image by Ritu Jethani from Fotolia.com