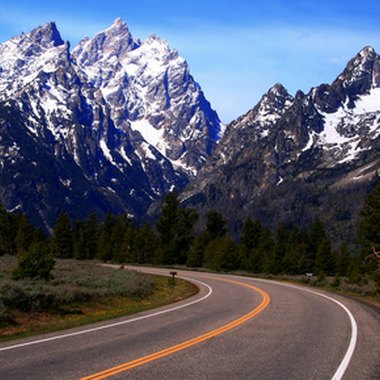 The three main highways into Grand Teton National Park converge at Moran, Wyoming. It's not officially a town, though the community does have its own postal zip code. Often called Moran Junction, the tiny settlement contains the post office, an elementary school and not much else. Other scattered locations in the remote northern reaches of the Jackson Hole valley use Moran as an address. You still can experience the thrill of the Western frontier in the sunset shadow of the Grand Teton mountains. Moose, elk, deer and bear make themselves at home in the rugged environs as they have since long before John Colter, Davey Jackson and Richard "Beaver Dick" Leigh made their way into the area.
Cabins
Guest cabins augment the incomes of a few working ranch owners throughout the area known as Moran. Stay in a rustic but comfortable log cabin on one of these properties and wake up to the sound of real cowboys prepping their mounts. In true frontier form, Brad and Joanne Luton built their Teton Cabins just outside the east entrance of Grand Teton National Park largely by hand. The Buffalo Valley Ranch Cabins occupy a one-time trading post and road camp.
Dude Ranches
A bit more interactive, dude ranches combine lodging with traditional ranch activities like horseback riding, fly-fishing and hunting. Modern dude ranches, like Turpin Meadow Ranch, have added skiing, snowmobiling and snowshoeing to the slate of winter pursuits. The Heart Six Ranch serves up authentic cowboy cuisine and Dutch oven cooking.
Recreation Resorts
Full-service resort properties in Moran and the surrounding region combine an appropriately rustic ambiance true to their Western locale with varying degrees of the comfort and convenience modern travelers expect. Situated on the Continental Divide Trail System, The Hatchet Resort, Togwotee Mountain Lodge and Flagg Ranch Resort cater primarily to snowmobilers in the winter, with summer activities reflecting the proximity to Grand Teton and Yellowstone national parks.
Park Accommodations
Rooms at Jackson Lake Lodge and Jenny Lake Lodge in Grand Teton National Park present a decidedly more upscale choice, while a stay in an authentic homesteader cabin at Colter Bay Village transports you back to the carefree days of summer camp.
Photo Credits
Road To The Teton's 2 image by Lee O'Dell from Fotolia.com