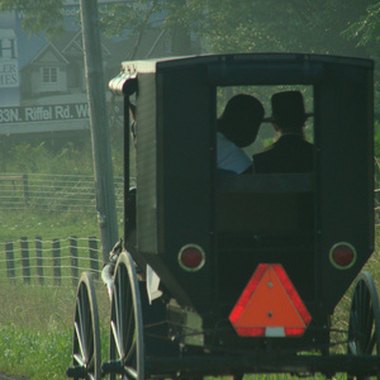 Each year, hundreds of thousands of visitors flock to Lancaster, the center of Pennsylvania's Amish Country. For those who would like to spend a few days touring the area's many attractions, Lancaster and its suburbs offer a variety of motel accommodations. The selection is broad enough to ensure that travelers who plan ahead can find the type of lodging and amenities they want for a price that they can afford.
Best Western Eden Resort & Suites
This motel resort is a comfortable oasis in the midst of the Amish heartland, a region and people well known for the simplicity and plainness of their way. By contrast, the Eden Resort offers all the bells and whistles, according to Frommer's. Each of its 284 guest rooms and suites features a compact refrigerator and high-speed Internet access. The motel's facilities include indoor and outdoor swimming pools, a full-service spa, and 24-hour business and fitness centers. The indoor pool and adjoining hot tub sit within a lavishly landscaped atrium area. On-site restaurants include Arthur's Terrace for fine dining and Garfield's Food & Spirits for lighter fare in a casual setting.
Comfort Suites Amish Country
Family groups and travelers planning an extended stay may want to consider this all-suites motel. Close to Lancaster's Greenfield Corporate Center, the Comfort Suites is also a good choice for travelers who are in the area for meetings with businesses based in the center. All suites feature microwave ovens, compact refrigerators and high-speed Internet access. Business travelers who need to put the finishing touches on a proposal or project do so in the on-site business center. Recreational facilities include an indoor heated pool and fitness center. The motel has no on-site restaurant, but does serve a breakfast buffet each morning. Nearby restaurants include Applebee's, Fuddruckers, Asian Bistro and Texas Roadhouse.
Hilton Garden Inn Lancaster
Centrally located in the Lancaster area, this two-story, 156-unit motel is not only convenient to all that Amish Country has to offer, but is also an easy day trip from other regional attractions such as Hershey Park and Gettysburg National Military Park. All rooms and suites feature high-speed Internet access, as well as a hospitality center that includes a microwave oven, refrigerator and coffeemaker. For the convenience of business travelers, the on-site business center is open around the clock. To stay active, visitors work out in the fitness center or swim laps in the indoor pool. Clyde's Cafe serves a hot breakfast buffet each morning, as well as lunch and dinner. If you're on the run, pick up ready-made sandwiches and microwaveable items in the motel's Pavilion Pantry.
Holiday Inn Express Lancaster-Rockvale Outlets
Located on the edge of a sprawling outlet mall, this two-story, 112-unit motel is the only logical choice for travelers who also have a passion for shopping. All rooms and suites feature high-speed Internet access, and some also have both microwave ovens and compact refrigerators. Motel facilities include a business center, seasonal outdoor swimming pool and 24-hour fitness center. Although the motel has no on-site restaurant, it does serve a hot breakfast buffet each morning. Nearby restaurants include Cracker Barrel, Bob Evans, Olive Garden, Ruby Tuesday and Texas Roadhouse.