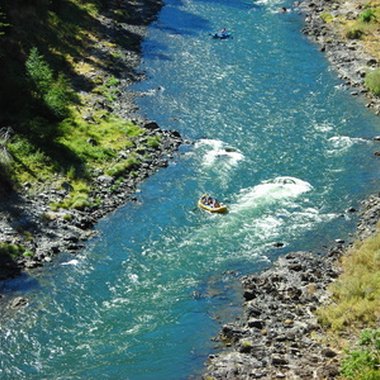 Located in Southern Oregon directly along Interstate 5, Jackson County is home to the scenic Rogue River (popular for rafting and kayaking), the Ashland Shakespeare Festival and an access point to the Cascade-Siskiyou National Monument. Motels are plentiful throughout the region and range from standard accommodations to family-run boutique lodgings.
Shady Cove
This small town provides the last full-service stopping point before heading into Crater Lake National Park, less than an hour's drive away. Known as the "Jewel of the Upper Rogue," visitors to this area are drawn to the Rogue River for whitewater rafting, salmon and steelhead fishing, and other outdoor recreating. Motel lodging includes the Maple Leaf Mote,l offering standard amenities along with a community barbecue and complimentary shuttles to the local rafting outfitters. Also in town is the Royal Coachman Motel with riverfront views and access, adjoining rooms with kitchenettes for families, and a guest barbecue; the motel is also within walking distance of neighboring restaurants and shops.
Medford
One of the larger towns in this part of the state, Medford has its own regional airport, several arts and culture venues, wineries, art galleries and luxury day spas. Hot summer days can get into the 90s, with a few inches of snow hitting the valley floor in winter. Less than 30 miles from the California border, Medford provides plenty of lodging for those traversing the I-5 corridor. Chain motels include Motel 6, Super 8, Rodeway Inn and the Knights Inn, with nearly a dozen independent motels making up the bulk the offerings. The Redwood Inn Motel is within walking distance of restaurants and shops and has free wireless Internet, smoking and non-smoking room options, and a weekly rate. The Cascade Inn offers kitchen units along with room service, while the City Center Motel also provides free Internet access with the nightly rate. Other motels include the Tiki Lodge Motel, Harvey's Motel, the Sis-Q Motel and the Valli Hai Motel.
Rogue River
A small town of about 2,000, Rogue River sits between the relative metropolis of Grants Pass and Medford along I-5. This region lies on the valley between the Cascades, Siskiyou and Coast mountain ranges and provides visitors with a host of outdoor recreation opportunities as well as small town sites such as a pioneer museum and the Palmerton Arboretum. If you're lucky enough to be in town for the last weekend of June, you'll get to hang out for the National Rooster Crow Championship, held since 1953. Four motels are in town including the Motel Del Rogue, a rustic lodging in operation since the 1930s with private, river view decks, kitchenettes and one spa suite available. The Bella Rosa Inn GP is a family-run vintage 50s-style motel with a private boat dock, fully stocked kitchenettes, and free Tahiti rafts available to guests. The Rod & Reel Motel and the Flycaster Motel round out the lodging opportunities.
Ashland
From February through November each year, Ashland, Oregon, hosts one of the country's premiere theatrical events -- the Oregon Shakespeare Festival -- drawing thousands of theatergoers annually. Aside from theatre, Ashland also has plenty of boutique shopping, live music, hiking, golf, and a variety of regional cuisines and wines to choose from. Due to the constant influx of visitors, this town offers plenty of lodging opportunities for those stopping by. The Timbers Motel offers seasonal rates, family rooms with three beds, free Wi-Fi, pet rooms with pet amenities, and discounted rates for those here for nearby Mount Ashland skiing. The Manor Motel revels in its 40s-style heritage and is located within walking distance of the Shakespeare Theater, shopping and dining. Located in a residential area, the Manor also provides one- and two-bedroom units, free wireless Internet and shaded picnic areas for their guests. The Ashland Motel falls into the boutique motel category, with kitchenettes, an outdoor pool, and a sundeck in a garden setting; it is directly across the street from Southern Oregon University. The Palm Motel is three minutes from downtown Ashland and calls itself an "eco-friendly unconventional motel." Featuring organic coffees, natural soaps and environmentally-sound cleaning products, this motel also offers rooms with kitchenettes and vaulted, wood ceilings.