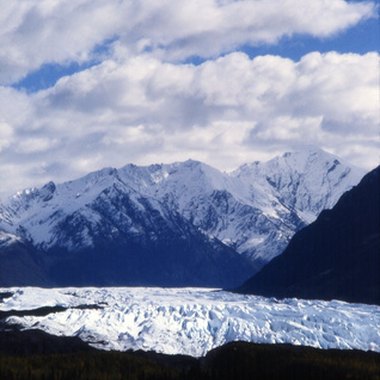 Wasilla, Alaska, is a burg of about 10,000 less than an hour's drive from Anchorage. Today, Wasilla is largely a commuter suburb, but it sits in beautiful country between Wasilla Lake and Lake Lucille. Wasilla's aspirations to take Juneau's place as state capital were dashed in 1994, when a referendum to that effect was defeated, but the lakes remain popular summer destinations and the town is served by the Alaska Railroad. If you pass through Wasilla on business or pleasure, you will have your choice of lodging.
Best Western Lake Lucille Hotel
The Best Western Lake Lucille gives guests the beauty of a calm, lovely lake. You should take full advantage of it -- book a lake-view room, walk the deck, watch the ducks -- since this will be the high point of your stay. The hotel has closed its lounge and restaurant other than for the continental breakfast, and the workout area is in disrepair. Still, you can get free Wifi, do your laundry on the premises and bring in Fido for a fee.
Alaska's Select Inn Motel
If you are passing through Wasilla on a budget, Alaska's Select Inn Motel might be worth a look. The neighborhood is nice and the price will be easy on your pocketbook. The 16 rooms are large, well-heated and have all the closet space you might hope for. You can opt to forgo a restaurant meal and eat in, since the rooms come with a kitchen equipped with fridge, stove and microwave. On the other hand, do not expect anything more than basic accommodations in this low-cost motel.
Agate Inn Hotel
If you want fond memories of Wasilla at any price, the Agate Inn is as good as it gets. Located a few miles from downtown Wasilla -- which many might see as a prime advantage -- the Agate Inn offers rooms, suites and cottages. All are lovely, spacious and homey. The buildings are situated on 16 wooded acres, and despite the rustic charm of the place, it also provides up-to-date technology with satellite television, phones with data ports and voice mail, and high-speed Internet. Don't miss the reindeer that wander the grounds and will eat dandelions from your hands.
Alaska Kozey Cabins Hotel
Another more expensive crowd-pleaser is the Alaska Kozey Cabins. This hotel, set on 5 wooded acres minutes from downtown Wasilla, offers log cabin accommodations. The cabins are complete with private bath and kitchen, a front porch and an upstairs loft area. While not luxurious, the rooms are homey and snug and promise an unusual hotel experience. Cable TV and DVD are available, but you might prefer drinking in the tranquility.
Resources
Best Western Lake Lucille; 1300 West Lake Lucille Drive; Wasilla, Alaska 99654; 907-
Photo Credits
matanuska glacier and mountains image by Jorge Moro from Fotolia.com