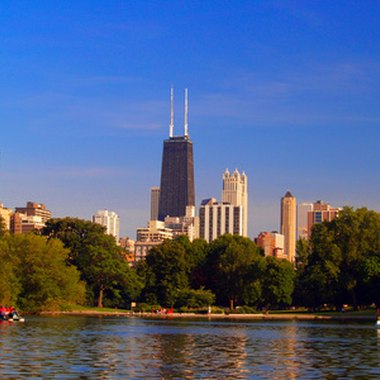 If you're looking for a convenient way to get in and out of the city, the Ogilvie Train Station is the central hub that connects the surrounding suburbs to Chicago, Illinois, and a number of convenient hotels are located nearby. If traveling for a shorter vacation, such as a college graduation or to attend the Taste of Chicago where you try foods from local eateries, hotels are located near these attractions as well.
Near Ogilvie
Open since 1929, the InterContinental Chicago Magnificent Miles Hotel is located on Michigan Avenue near the Water Tower Place and John Hancock Building. As of November 2010, the hotel's special offers include a breakfast for two throughout your stay or fresh flowers and wine if traveling for a romantic weekend. Rooms provide city views and plush living room furniture. Video games, satellite TV and Internet access add to the room amenities. Suites include living rooms separated from guest rooms by French doors for additional privacy and views of Michigan Avenue. A boutique hotel, the Allerton Hotel Chicago features a modern design with black and white furnishings, tiled floors and wrought iron chandeliers. Rooms offer free Internet access, minibars and iPod docks. Hotel amenities include spa services available in the privacy of your room, a fitness center and dry cleaning services. The hotel's M Avenue Restaurant offers crab cakes, burgers and pasta dishes.
Near Taste of Chicago
The Silversmith Hotel and Suites is a boutique hotel near Grant Park where the Taste of Chicago is held every summer. The 143 smoke-free rooms feature CD players, free Internet access and complimentary newspapers. On-site facilities include a fitness center, business center and laundry services. Located on the property, Ada's Famous Deli and Restaurant prepares a variety of sandwiches and soups throughout the day. The Renaissance Blackstone Chicago Hotel overlooks Lake Michigan and the city. The 328 pet-friendly guest rooms include oversize windows, small chandeliers in the sitting areas, and framed artwork. Rooms provide Internet access, robes and living areas. The hotel is within one mile of the North Avenue Beach and two miles from the nine-hole Sydney R. Marovitz Golf Course.
Near Union Station
Situated in the center of the Chicago Loop, the W Chicago is a luxury hotel with a marble-lined lobby and contemporary guest rooms with fainting couches, wood paneled walls, and dark-stained furnishings. The 368 rooms offer pillow-top mattresses, fresh flowers on the end tables, and iPod docking systems. Pets are allowed for a daily fee, and the hotel provides pet toys, beds and dog walking services. Additional features include a fitness center, spa services and a personal driver. Union Station is a two-minute-drive away. The downtown Palmer House Hilton is the longest operating hotel in the United States. Every president since Ulysses S. Grant has stayed or visited the hotel. The smoke-free accommodations provide Internet access, weekly newspapers, European linens and iPod docks. A fitness center and swimming pool are located on the property. The Lockwood Restaurant and Bar, located on-site, offers a menu of mussels, crab salad, and macaroni and cheese. The hotel is situated near many popular attractions such as the Shedd Aquarium and the Field Museum, both approximately one mile away. The hotel is a two-minute-drive from Union Station.
Near Colleges
The Days Inn Chicago is located in the Lincoln Park neighborhood, only one mile from DePaul University. The hotel provides 133 smoke-free guest rooms with free Internet access, complimentary newspapers and video games. Valet parking, complimentary breakfast and laundry facilities add to the amenities. As of November 2010, the hotel offers a kids' nature package which includes an upgrade to an executive room and complimentary admission to the Peggy Notebaert Nature Museum. The museum is less than one mile away. The Best Western River North Hotel is approximately two miles from Northwestern University. The hotel's downtown location puts it within walking distance to the Navy Pier and Michigan Avenue. The 150 rooms feature free Internet access; suites provide a living room and refrigerators. Hotel services include an indoor swimming pool, a sundeck with city views, and a casual pizza restaurant located on-site.
Photo Credits
Looking up at the Hancock Center in Chicago image by painless from Fotolia.com