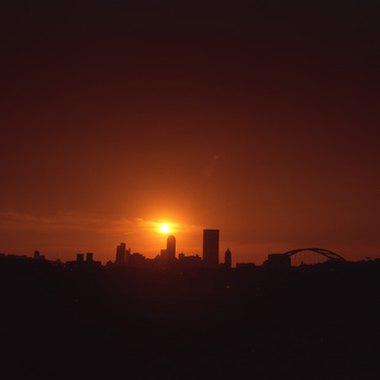 Harmarville, on the eastern outskirts of Pittsburgh, was founded in 1875. Settled by immigrant farmers and laborers who worked in the nearby Harmar Mine and local brick manufacturing plants, Harmarville has maintained its rough industrial character over the years. Harmarville also has a strong history as a transportation hub due to its location along the Allegheny River and the Pennsylvania Turnpike. Visitors passing through Harmarville have a number of lodging options: There's only one motel in town, but there are several inns and hotels.
Valley Motel
The Valley Motel is an independent establishment on the western fringe of Harmarville. This tiny motel offers standard single- and double-bed rooms as well as an assortment of Jacuzzi suites. All rooms and suites come with DVD players, refrigerators and free high-speed Internet. The motel sits adjacent to Ponderosa Steakhouse, and guests can walk across the parking lot to Alexander's Athletic Club for a quick workout. In addition, the Valley Motel lies next door to FunFest, a large entertainment facility with cosmic bowling, laser tag, pool tables and arcade games. The Valley Motel enforces a no-pets policy, so travelers with pets should consider other options.
Comfort Inn Pittsburgh-North
The Comfort Inn Pittsburgh-North sits at the heart of Harmarville's business district. Standout amenities include an exercise room and a seasonal outdoor pool with a sundeck. Business travelers will appreciate the on-site meeting rooms and banquet area. This Comfort Inn has standard rooms as well as suites with hot tubs. Guests can eat a complimentary hot breakfast in the hotel lounge, and restaurants like Burger King and Denny's flank the hotel premises. The BladeRunners Ice Complex also is nearby.
Super 8 Hotel Pittsburgh-Harmarville
MetroTravelGuide.com lists the Super 8 Hotel Pittsburgh-Harmarville as another option. Situated among a cluster of hotels on Landings Drive, this budget chain features basic accommodations at affordable rates. Amenities include free continental breakfast and free wireless Internet in every room. A KFC sits next to the Super 8, providing a convenient option for hotel guests in need of an easy meal.
Days Inn Harmarville
Also listed by MetroTravelGuide.com is the Days Inn Harmarville, right across the street from the aforementioned Super 8. Standard rooms are available along with two-room suites with microwaves, refrigerators and work stations. Additional services range from an on-site guest laundry facility to a complimentary continental breakfast buffet. As for lunch and dinner, guests can walk across the hotel parking lot to restaurants like King's and McDonald's.
Holiday Inn Express Pittsburgh-North
The third and final establishment in the cluster of hotels on Landings Drive is the Holiday Inn Express Pittsburgh-North. Located at the dead end of the road, this hotel offers a slightly more upscale alternative when staying overnight in Harmarville. It has a heated indoor swimming pool as well as a 24-hour fitness center with treadmills, StairMasters and stationary bikes. Guests also can take advantage of the hotel's 24-hour business center with copy, fax and printing services. Staff serve a hot breakfast buffet at the on-site Express Start Breakfast Bar every morning, and the hotel's a short walk or drive to area restaurants.