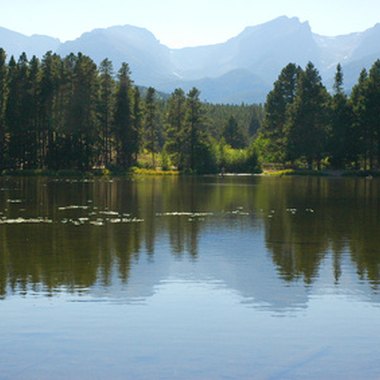 Midway between Denver and Cheyenne, Wyoming, Fort Collins, Colorado, lies just west of Interstate 25 and within easy driving distance of Rocky Mountain National Park and Roosevelt National Forest. The city of roughly 140,000, nestled in the foothills of the Rocky Mountains, is home to Colorado State University. Visitors to the area who are looking for reasonably priced accommodations will find four motels that should fit the bill.
Americas Best Value Inn
Roughly two miles north of downtown Fort Collins, this motel offers guests easy access to two of the area's popular attractions. Windtracker Balloon Adventures gives hot-air balloon rides over the city and its environs, while Fort Fun showcases a collection of family-friendly activities, including miniature golf, laser tag and go-kart racing. Although the motel has been renovated several times since it was constructed in the 1960s, the original wood beams and stonework have been preserved. Each of the motel's 40 guest rooms features a microwave oven, compact refrigerator and high-speed Internet. Nearby restaurants include McDonald's, Pizza Hut, Pobre Pancho's and Yung's Recipes.
Budget Host Inn
Only two miles from both Colorado State University and the Anheuser-Busch brewery, this 30-room motel has some family-size rooms available, as well as a picnic area and outdoor hot tub. All rooms feature microwave ovens, compact refrigerators and high-speed wireless Internet, and most rooms have at-door parking. Nearby restaurants include Burger King, Ever Open Cafe, McDonald's, Taco Bell, Tacos El Tapatio and Wing Street.
La Quinta Inn Fort Collins
Only five minutes from the historic downtown business district of Fort Collins, this two-story, 132-unit motel is a smart choice for people traveling with pets. Under La Quinta's pet-friendly policy, pets can stay in guest rooms with their owners for no additional charge. The motel sits just off Exit 269 of Interstate 25 and only 4.5 miles from Foothills Mall, the largest shopping center in the region. All motels rooms and suites feature high-speed Internet, microwaves and refrigerators; some rooms also have whirlpool tubs. Recreational facilities include indoor and outdoor swimming pools and a fitness center. The motel provides a complimentary breakfast each morning. Nearby restaurants include Burger King, Charco Broiler Restaurant, Denny's, McDonald's, Sundance Steakhouse and Saloon and Tri City Pizza.
Super 8 Fort Collins
Conveniently located near the junction of Highway 14 and Interstate 25, this two-story, 71-unit motel is a good base for exploring Fort Collins and the surrounding region, including Rocky Mountain National Park. The motel accepts pets for a fee of $10 per night for the first pet and $5 more for each additional pet (as of November 2010). Hotel facilities and services include a fitness center with hot tub, 24-hour front desk, high-speed Internet and complimentary continental breakfast. Restaurants close to the motel include Charco Broiler, Dairy Queen, Denny's, KFC and Taco Bell.
Photo Credits
rocky mountain national park image by Brett Bouwer from Fotolia.com