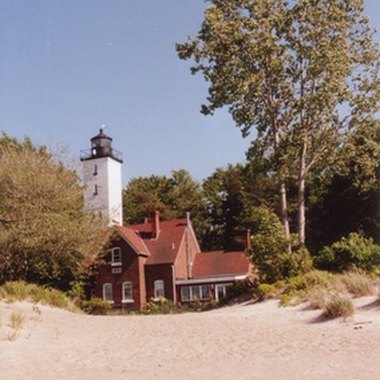 Located along Lake Erie in northwestern Pennsylvania, Erie is essentially an industrial city. Erie does attract some visitors who want to try their luck at the local racetrack and casino, visit the parks that border the lake or have some fun in the Splash Lagoon indoor water park. Tourists and business travelers will find reasonably priced accommodations in the area's motels, most of which are clustered in key areas of the city.
Airport/Presque Isle State Park
Roughly five miles west-southwest of center city, the Erie International Airport, also known as Tom Ridge Field, sits in a neighborhood that serves as the gateway to Presque Isle State Park. The 3,200-acre park is a sandy peninsula that juts into Lake Erie and boasts the Keystone State's only "seashore," according to the Pennsylvania Department of Conservation and Natural Resources. Motel accommodations in this part of Erie include the two-story, 63-unit El Patio Motel and the Glass House Inn Erie Airport, a 30-unit motel that accepts pets for a per-stay fee of $20 (as of November 2010).
Perry Highway/Presque Isle Downs & Casino
Visitors to Erie who are looking for a little gambling action will find what they want at the Presque Isle Downs & Casino, a thoroughbred racetrack and 24-hour casino that also offers an array of dining options and live entertainment. Nearby, just off Exit 27 of Interstate 90, are three reasonably priced motels, all within walking distance of the casino/racetrack complex. The 113-unit Days Inn on Schultz Road has a pet-friendly policy, accepting furry guests for a fee of $10 per pet per day (as of November 2010). The 93-unit Super 8 Erie/I-90 provides guests with complimentary shuttle service to the casino/racetrack, while the 110-room Red Roof Inn treats guests to daily coupons good for $7 in slots play at the casino.
Splash Lagoon Water Park
One of Erie's top family-friendly attractions is the Splash Lagoon indoor water park, where it's summer year-round with an assortment of water slides, pools and other features. The water park sits in the heart of Erie's Peach Street Business District, a popular destination for shoppers. Motels in this area, just off Exit 24 of Interstate 90, include the pet-friendly Microtel Inn Erie with 48 units and the 97-unit Econo Lodge, which has a heated indoor pool and fitness center.
Harborcreek Neighborhood
Located east-northeast of downtown Erie, the Harborcreek neighborhood is a growing residential area with a smattering of businesses near Exit 35 of Interstate 90. Visitors to the Erie area who'd like to find accommodations away from the city's commercial districts may opt for the 36-unit Rodeway Inn, which has an on-site restaurant. With easy access to Interstate 90, guests staying in the Harborcreek area can drive quickly to other parts of the Erie metropolitan area.
Photo Credits
presque isle lighthouse image by Wendy Hampe from Fotolia.com