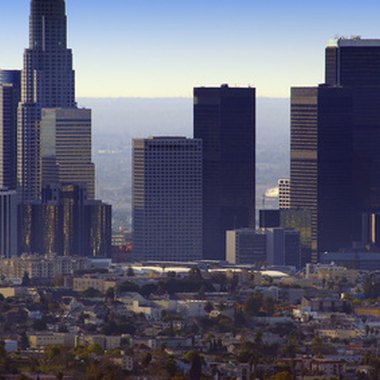 Downtown Los Angeles, like most major American metropolitan urban centers, is home to high-rise hotels, but the City of Angels also has a number of motels located in the city center and on the traffic arteries leading away from the downtown. LA motels offer easy access and fewer floors of rooms when compared to downtown hotels. The city covers over 470 square miles with motels featured in the different city districts, including Chinatown, City Center and Bunker Hill.
Motels Close to Sports Action
America's Best Value Inn on South Alvarado Street offers easy access to the Los Angeles Convention Center and basketball action at the downtown Staples Center on South Figueroa Street. The Comfort Inn City Center located on West Seventh Street in downtown is minutes from Staples Center. The motel also has easy access to University of Southern California college basketball games held in the Los Angeles Sports Arena, located ten minutes from the downtown. Football play at the Los Angeles Coliseum across the street from the So Cal campus is a five-minute drive on Figueroa Street from the central downtown motel locations. ]
Motels Close to Film Studios
Film studios frequently use downtown buildings and streets for movie shooting. Many downtown hotels and motels use Hollywood as part of the motel title as a lure for tourists looking for lodging near the studios, but the motels are not actually located in Hollywood proper. Several of the downtown motels are close to film and television production facilities, since many of the media venues are located outside Hollywood. Downtown motels on the west side of the city provide convenient access to major traffic arteries, including Wilshire Boulevard, that provide access to the studios and avoid freeway traffic during morning and afternoon rush hours. Motels, including the Rodeway Inn on Beverly Boulevard offer accommodations close to television and film studio tours.
Architecturally Interesting Downtown Motels
A group of vintage Los Angeles downtown motels feature interesting architecture. The Royal Pagoda Motel incorporates traditional Asian design elements with a dash of Googie trim. Googie architecture is mid-century popular design that incorporates bright colors and exaggerated design features. The Royal Pagoda Motel features basic room accommodations that have changed little since the hotel was constructed in 1964. The hotel offers easy access to the downtown transportation hub at Union Station where Amtrak and the city's rapid transit and bus lines merge.
Old & New Chinatown Motels
The area several blocks southwest of Los Angeles City Hall includes Chinatown, both the old and new neighborhoods. Motels in this district feature Asian-influenced western architecture, tile roofs and Asian interior design. Best Western Dragon Gate Inn features a tiled entrance gate and blue tile roof, but the remaining accommodations are strictly western. The Dragon Gate location provides easy access to television studio tapings on the city's West Side and in Culver City. The Royal Pagoda, located in central Chinatown, incorporates more traditional Asian design features. The motel has been featured in numerous television shows and feature films. Both motels offer a choice of traditional Chinese restaurants within walking distance from the accommodations.