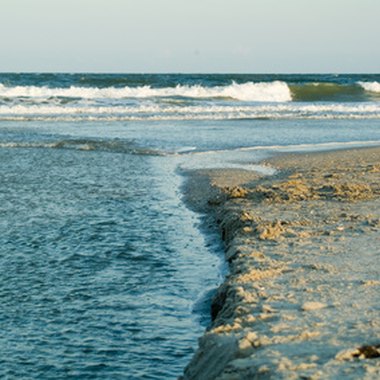 Myrtle Beach, South Carolina is a vacation destination known for its 60 miles of sandy beach called the Grand Strand and for family-friendly attractions. Many of the hundreds of motels, hotels and resorts in the area do not accept pets. Animal loving staff at the few motels that do take dogs will welcome your pet with a smile.
Red Roof Inn
Red Roof Inn allows one well-behaved dog per room at no additional charge. Your dog cannot exceed 30 lbs., you must declare your pet at check-in, and pets aren't allowed in poolside rooms. The motel requests that pets be leashed or crated when they're outside the room and they cannot be left unattended at the motel. A grassy area is dedicated to dog walking. Red Roof Inn is two blocks from the beach and a mile from Market Common, an upscale shopping mall.
La Quinta
La Quinta welcomes dogs and cats up to 50 lbs. at no additional charge. Pet owners must be present or the animal crated when housekeepers are in the room. The motel is two blocks from the ocean and has a grassy area designated for dog walking. A Friendly's restaurant is on the premises and several other eateries are within walking distance. Budget-friendly La Quinta has standard rooms, king rooms with a wet bar and two-room suites.
Comfort Suites
Comfort Suites, a half-mile from Broadway at the Beach and the NASCAR Speed Park, accepts two dogs weighing up to 35 lbs. at an additional nightly fee. All dog-friendly rooms are on the first floor so pets don't have to ride the elevator or take the stairs. Three grassy areas provide space for walking your dog. The all-suites motel has a seasonal swimming pool and sun deck. Some suites have Jacuzzi tubs.
Staybridge Suites
Staybridge allows dogs up to 50 lbs. at an additional fee and provides Pet in Suite magnets for doors so other guests know there's an animal in the room. Dogs must be crated when they're left in the room and leashed when outside. Staybridge Suites has designated dog walking areas. The motel is four miles from the beach and boardwalk, and within walking distance of Medieval Times. Studio, one- and two-bedroom suites have kitchens and dining areas.
Photo Credits
myrtle beach south carolina ocean view image by Jorge Moro from Fotolia.com