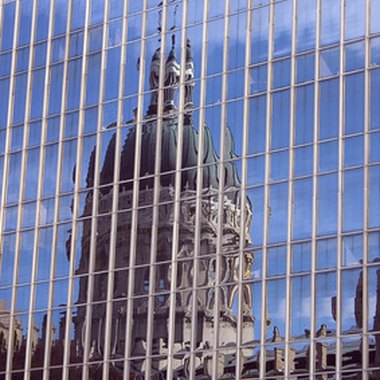 The motel market in central Indiana, dominated by the chains, centers around medium to large-sized cities that have attractions like universities or sports venues. While it's certainly not true in all cases, many mom and pop motels show their age and offer little more than a place to sleep and a cup of coffee in the morning.
Indianapolis
The greatest concentrations of motels in Indianapolis are on the interstates. A handful are near the Speedway and there are about a dozen near the convention center. Interstate 465 circles the city. Chain motels situated at major interchanges with Interstate 70 and Interstate 65 and along Interstate 69 near the airport include almost every brand. Fountain Square, Indiana's first commercial historic district, hosts art galleries, restaurants and shops. The Fountainview Inn, located on the third floor of the Fountain Square Theatre building offers junior and one-bedroom suites by the day, week or month.
Muncie Area
Chain motels and a few privately owned properties, located along west McGalliard Road, cater to visitors headed for Ball State University. The economical Lees Inn & Suites, part of a Midwestern chain, has a no-frills atmosphere but serves guests a hot breakfast buffet daily. Anderson, about 20 miles southwest is the site of the H&K Motel. The motel offers budget-friendly rates, free WiFi and parking for RVs. Some rooms have Jacuzzi tubs, refrigerators and microwave ovens. Two casual restaurants are a short distance away.
Off the Beaten Path
The Rawhide Ranch, in Nashville, Indiana about 45 miles south of Indianapolis promises guests a taste of the old West. Well-appointed guest rooms and common areas with cooking facilities and living rooms are located above a barn. Travelers are welcome to spend one night or longer. Rawhide Ranch provides horses for trail rides. The Loft Inn in Fairmount, about 35 miles northwest of Muncie, is an economical bed and breakfast with large rooms equipped with WiFi. Full breakfast is served daily.
Lafayette and West Lafayette
Lafayette motels are almost exclusively located near exit 172 on Interstate 65, a well-developed commercial district east of downtown. Comfort, Candlewood, Super 8 and Red Roof Inn are among the motels in the area and a number of chain restaurants have outlets. Holiday Inn's downtown property offers 100 percent smoke-free rooms and suites. Across the river in West Lafayette, Campus Inn provides lodging within walking distance of Purdue University, Amtrak and the bus station. The two-story motel has both standard rooms and suites.
Resources
Lees Inn; 3302 North Everbrook Lane; Muncie, IN 47304; 765-282-7557
Photo Credits
reflection of state capitol building in indianapolis, indiana. image by pixelcarpenter from Fotolia.com