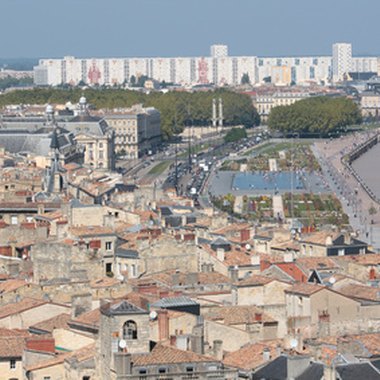 Bordeaux is an elegant city, with a stuffy, bourgeois atmosphere despite its numerous universities and immigrant neighborhoods. The capital of Aquitaine, it is a major port and industrial city on the Garonne River. Residents of Bordeaux are called "Bordelais," a term that also serves as a synonym for "snob" in the region. You will find a magnificent 18th-century theater in Bordeaux, fine wines from the nearby vineyards, an excellent tram system. You will not, however, find many motels.
P'tit Dej Travel Inn
A motel by any other name is still a motel. The P'tit Dej Travel Inn is budget priced, near the airport, and you can drive right up to the door. A hop, skip and jump from the Bordeaux-Mérignac airport and 15 minutes from the centre of Bordeaux, P'tit Dej-Travel Inn is open 24/7. French or not, it is a modern, chain hotel with clean, impersonal rooms and free parking. True to its name ("petite dejeuner" means breakfast), the establishment offers a free, buffet-style breakfast.
Novotel Bordeaux Le Lac
This hotel of the up-scale Novotel chain bills itself as a "motoring hotel," which is as close as you are likely to get to "motel" in Bordeaux. And it is a good motel, located in easy-to-get-to suburbs north of town -- count on a good 10 minutes to get to downtown -- with 175 large, clean (but basic) rooms and free parking directly in front. The three-star price includes a lovely swimming pool, free breakfast, multi-lingual staff, in-hotel restaurant and views of the lake.
Citotel Les Alizés
The two-star Citotel Les Alizés motor-hotel "a fait peau neuf" in a spiffy renovation in 2009, and now boasts comfortable beds, good quality linens, enlarged bathrooms, free Wi-Fi and a copious free breakfast. With 40 air-conditioned, sound-proofed rooms just eight minutes from downtown, the Citotel is about as close as you are going to find a motor-hotel to central Bordeaux. Parking just out front. Dogs are allowed, so don't leave Fido home.
Travel'Inn
Easy parking is assured in the Travel'Inn, located in the greater airport neighborhood. A one-star with a one-star price, the Travel'Inn is popular with French travelers. You can count on small clean rooms, a friendly staff, food available but not included in the price. Since buses to downtown run directly by the hotel, budget travelers might leave the car and visit the big city without having to negotiate traffic.
Photo Credits
Bordeaux panoramique bourse miroir image by Nicolas33 from Fotolia.com