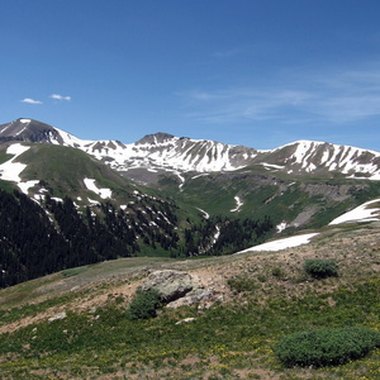 A suburb of Denver, the community of Aurora is a convenient stopping place for travelers, as it skirts the major traffic of downtown Denver while still being close to shopping malls, department stores, restaurants, entertainment venues and Denver International Airport. The most prevalent sort of accommodations are extended-stay motels, especially during conventions, livestock shows and the summer hiking and winter skiing seasons. Aurora is much more affordable than Denver, adding to its attraction.
Holiday Inn Express Aurora
Much like any other Holiday Inn Express, the Aurora location has all the usual amenities — business center, complimentary W-iFi, gym on the premises — but it also has a really big outdoor heated pool, making it a fun place for the kids during summer. A nice money saver is the complimentary hot breakfast and the evening snacks, which can usually serve as dinner, at least for children. The rooms are spotless, the staff courteous and the parking lot is patrolled by security.
Homestead Studio Suites
At a below average price, Homestead Studio Suites is located near Cherry Hills Village, just off I-225. All rooms have fully equipped kitchens as well as a desk with hookups for your computer and other electronic gadgets. There's a small fee for Wi-Fi, but it is a one-time thing and lasts for the length of your stay. The same concept applies to pets: There is a non-refundable cleaning fee at the beginning of your stay. There is no pool, but there is access to a nearby gym for a fee. There also is no separate bedroom, so this might not be right for families with older children, but the kitchen and dining area add to the value.
Red Lion Inn
Aurora's Red Lion Inn combines the convenience of a motel with the amenities of a hotel and a perfect location for either business or pleasure. All rooms and suites have free Wi-Fi, a workspace area and a microwave, but there is a charge for a refrigerator in the standard rooms. The on-site restaurant is pretty good in the comfort food department and room service is available until 1 a.m. There also is a bar and kids eat free at the breakfast buffet.
Value Place
Constructed in 2008, the Value Place in Aurora is near the Children's Hospital and the University of Colorado Medical Center, making it convenient for those who are undergoing treatment or want to be near family members in the medical facilities. The rooms are simple but there are only weekly rates — very low — and all rooms have a complete kitchen with a full-sized fridge, stove and microwave.
References
Photo Credits
Colorado Mountains image by Jak Kobalt from Fotolia.com