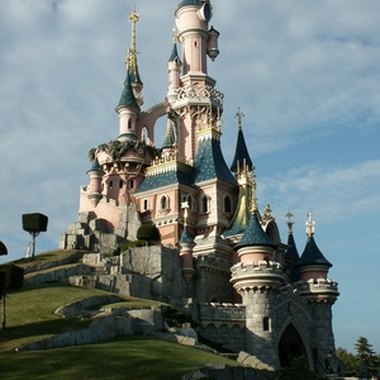 Only 25 miles southeast of downtown Los Angeles, Anaheim is home to the Disneyland Resort, a collection of theme parks that attract millions of visitors every year. Vacationers who'd like to stay close to Anaheim to explore Disneyland's many attractions as well as other area points of interest will find a wide selection of motels in and around the city.
Best Western Stovall's Inn
Just one block from the entrance to Disneyland, this motel offers its own small-scale fantasy world in the form of a topiary garden with shrubs trimmed into the shapes of animals and fictional characters. Each of the motel's 288 guest rooms and suites features a microwave oven, compact refrigerator and high-speed Internet. Recreational facilities include two swimming pools, two hot tubs and a children's wading pool. The motel has no on-site restaurant but does serve a complimentary continental breakfast each morning. Nearby restaurants include Coco's Bakery, Marri's Pizza, Ariel's Grotto and Denny's.
Anaheim Fairfield Inn by Marriott
Part of the Marriott family of hotel brands, this family-friendly motel offers 467 rooms, all within a short walk of Disneyland. For the benefit of its young guests, the Fairfield Inn's lobby features big-screen TVs that broadcast Disney films and the motel offers fruit-flavored drinking water as a healthy but more appealing thirst-quencher. Another family-friendly feature is the availability of sleeper sofas in many of the motel's rooms, according to Fodor's. Although the motel offers no complimentary continental breakfast, it has a handful of on-site eateries, including Millie's Restaurant & Bakery, which serves breakfast, lunch and dinner. Also on the premises are such fast-food eateries as Pizza Hut Express, The Market and Seattle's Best Coffee.
Anaheim Holiday Inn
The art deco design of this motel recalls the glory days of early Hollywood, as do the many historic photos that decorate the walls of the inn's common areas. About 10 minutes by car from Disneyland, the motel is in a largely residential neighborhood, which provides a more tranquil setting, particularly in the evening, according to Fodor's. The Holiday Inn also offers some packages combining motel accommodations and tickets to area attractions, so it pays to check out current offerings in advance of your trip. Recreational facilities include an outdoor swimming pool, hot tub and fitness center. The motel's Onyx Restaurant and Bar serves breakfast and dinner.
Travelodge Anaheim
Cost-conscious travelers who want to get the most bang for their buck might want to consider this motel, which has relatively modest rates for the area but still delivers most of the amenities that today's travelers demand. Some of the Travelodge's perks include microwave ovens, compact refrigerators and wireless Internet in all rooms, as well as a complimentary continental breakfast, according to Frommer's. Recreational facilities include a large outdoor swimming pool and hot tub. There is no on-site restaurant, but nearby are several eateries, including Bucca di Beppo, Outback Steakhouse, Carl's Jr. and El Torito.