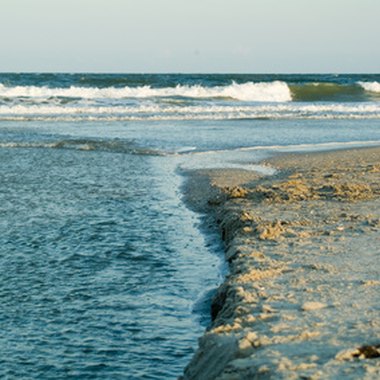 For dog lovers, enjoying the Atlantic Ocean isn't nearly as much fun if they can't bring their pets with them. Myrtle Beach, South Carolina, is not only a popular ocean resort town, but it had many motels that allow you to bring your dog along. Keep in mind that no dogs are allowed on the beach between May 15 and Sept. 15 from 9 a.m. to 5 p.m.
La Quinta Myrtle Beach
La Quinta welcomes pets and doesn't charge an extra fee for them. There also isn't a limit on the pet's weight or the number of pets in a room. The hotel is located next to Broadway at the Beach, which is an entertainment complex surrounded by a 23-acre lake. The hotel offers a free breakfast for guest, free newspaper, outdoor swimming pool and fitness center.
Vancouver Motel
While the Vancouver Motel welcomes pets, there is a $15 a day charge if you keep your pet in your room. You will also need to pay a $100 refundable fee to cover any damage your pet might cause to the room. If you leave your dog unattended in your room, you won't be able to get maid service. A walking area for dogs is located across the street from the motel and a shower for rinsing your dog after playing on the beach is located at the oceanfront area of the motel.
Majestic Shores Oceanfront Inn
The Majestic Shores Oceanfront Inn allows you to bring your dog to stay in your room for an additional fee of $10 per night per pet, and there is no limit on the number of pets you can bring. The motel has an outdoor pool and offers efficiency units if you are planning on an extended stay in Myrtle Beach.
Summer Wind Inn and Suites
The Summer Wind Inn and Suites allows up to two pets that weigh less than 100 lbs. in each guest room. You will need to pay an additional fee of $13 a night for one pet or $15 a night for two pets. Well-behaved dogs can be left unattended in the room, but aggressive dog breeds are not allowed. You can get a standard room or an efficiency that has a full kitchen.
Photo Credits
myrtle beach south carolina ocean view image by Jorge Moro from Fotolia.com