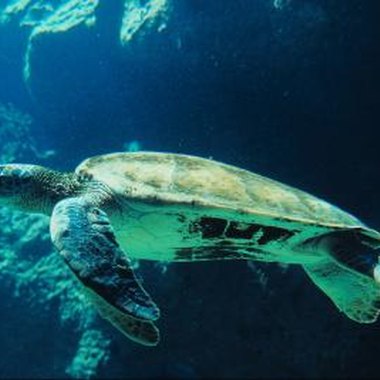 Monterrico is a small fishing village located on Guatemala's Pacific Coast that offers visitors looking for an escape from the busy capital an opportunity to explore volcanic sand beaches, mangroves and nature preserves that protect endangered sea turtles. Accommodations in this area are not abundant, but travelers will find lodgings to fit most budgets.
Upscale Accommodations
Dos Mundos Pacific Resort offers guests a series of cabanas situated in a tropical garden setting that accommodate two to four guests. The cabanas feature thatched roofs with high ceilings, air conditioning, Wi-Fi access and patios. Activities for guests include swimming in one of two pools or sunbathing on the black sandy beach. The hotel features an on-site restaurant, "El Alquimista" Bar and a tour desk, where guests arrange for canal excursions, fishing trips or horseback rides on the beach. The Beach Utz Tzaba Hotel offers guests hotel rooms and bungalow-style beachfront accommodations. The standard rooms feature regular or king-size beds and bathrooms with hot water and hair dryers. Families and larger groups may opt to stay in the bungalow-style accommodations, which include living room, dining area, kitchen, two bedrooms and a bathroom. The facility offers three whirlpools, a large swimming pool, a children's pool, a restaurant, and The Teo Torriatte Pool Bar.
Private Hideaway
Hotel Isleta Gaia provides a more secluded and isolated getaway. Located on a small stretch of sandy land with the Pacific Ocean on one side and the Laguna of Chiquimulilla on the other, guests access this hotel by taking a 30-minute boat ride along the Chiquimulilla River through a mangrove forest. Hotel Isleta Gaia features 12 bungalow-style rooms in a tropical setting, near a private beach where guests go surfing, boogie boarding or kayaking. The bungalows, which range from simple to double VIP rooms, include balconies or terraces. The hotel also features a swimming pool and restaurant with Guatemalan and Mediterranean cuisine.
Affordable Lodgings
Johnny's Place Hotel, located along the Monterrico Nature Reserve, provides lodging with a laid-back atmosphere for travelers on a budget. The inexpensive options include dorm-like lodgings with ceiling fans or air-conditioning. The deluxe suites and bungalows have one-, two- or three-bedroom accommodations with air conditioning, living rooms, dining areas and kitchens. Johnny's Place also features the Playa Club, where guests dance to Latin music on weekends. During the day, guests go swimming, surfing, sunbathing or deep sea fishing. The Hotel Café del Sol features 13 rooms with private baths and showers. Some of the rooms offer ocean views, while others overlook the pool. The restaurant, which offers fresh seafood, includes a terrace with views of the ocean. This hotel will arrange fishing excursions or whale- and dolphin-watching expeditions.
Tropical Environment
Hotel Pez de Oro has 18 bungalows with terraces and two swimming pools. The hotel also features a brick pathway around small volcanic gardens. The on-site restaurant includes Italian dishes such as scaloppini al vino bianco and tiramisu. The Hotel Atelie del Mar offers guests 16 rooms with air conditioning and televisions. The hotel grounds feature large garden areas with hammocks nestled between palm trees and two pools. The hotel also features a restaurant, bar, small art gallery, free Wi-Fi access and parking.
Photo Credits
Jupiterimages/Photos.com/Getty Images