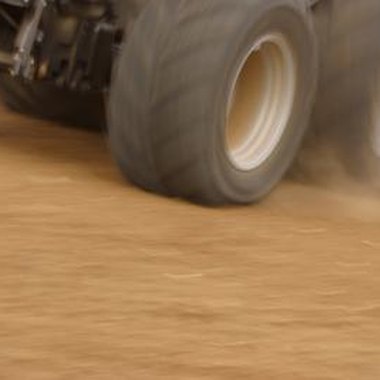 If you love sitting in a packed arena watching monster trucks flatten cars and take jumps, and want to bring the same excitement to your monster truck party, you're in luck. Your monster truck party can be a monster success with plenty of fellow enthusiasts and a variety of thrilling activities.
Artistic Activities
Let guests get creative right away. When each guest arrives, give her a temporary tattoo of her favorite monster truck, such as Grave Digger. After every guest has received a tattoo, direct everyone into the backyard, where you can arrange a large sheet of butcher paper, paint, crayons and markers. Let guests draw monster trucks and sign their names. Later, pass out plain white T-shirts and fabric paint. Let guests make their own party favors in the form of a personalized monster truck party T-shirt.
Games
Use cardboard and paint to fashion the back end of a popular monster truck. Leave a space where the license plate should be. Make the license plate separately and push a tack through the top (or affix adhesive to the top back). Blindfold guests and play "Pin the Plate on the Monster Truck." You can also have a monster truck scavenger hunt. Before guests arrive, hide miniature monster trucks all over your location. When guests arrive, split them into teams and distribute lists of clues to where the little trucks are hidden. The team that finds the most wins. Or, have every guest bring his own remote-controlled monster truck. Make a dirt track in your backyard and hold a race.
Indoor Activities
Have all the guests sit on the floor in front of the TV and show them DVDs or video clips of the most famous monster truck rally and Monster Jam moments. Find a cardboard stand-in for Grave Digger or Bigfoot and have guests pose with it. Take plenty of pictures. Play monster truck trivia -- gather facts about the best-known monster trucks, such as Avenger and El Toro Loco, split guests into teams and ask the questions. The team answering the most correctly wins.
Other Activities
Pick a day that a monster truck rally is scheduled and surprise the guests at the end with tickets. Arrange transportation beforehand and check to ensure each guest has money for snacks at the arena. Buy a pinata in the likeness of Grave Digger, hang it in your backyard and let guests take turns at it. Pass out a pull-back truck to every guest and set up a race track on a smooth wooden floor. Group guests into fives and have them compete in "heats." The winner of each heat competes in the "finals." Whoever has the fastest little truck wins a prize.
Photo Credits
Hemera Technologies/AbleStock.com/Getty Images