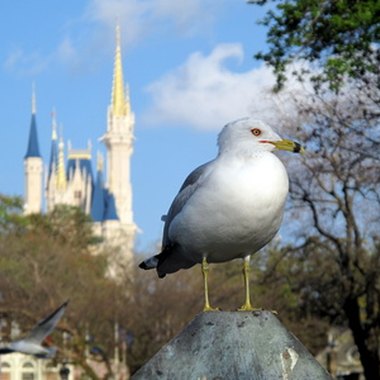 The monorail is a unique form of transportation that uses a single rail as its support and guide. With the increase in traffic congestion and the number of people living in urban areas, monorails have increasingly been used for mass transit. Its popularity has largely been limited to promoting futuristic technologies and transporting visitors at amusement parks, like Walt Disney World in Orlando, Florida. Here, guests stay at one of the monorail hotels on the train's route or use the monorail as a connecting point to any of the other property hotels.
Contemporary Resort
One of Walt Disney World's first two hotels to open, the Contemporary's A-frame design was the design of Walt Disney himself, along with U.S. Steel Corporation and well-known architect Welton Becket. It sits on the Seven Seas Lagoon and features views of Space Mountain and Cinderella's Castle. It also is the only hotel in which the monorail passes directly through the main lobby. Enjoy a meal at one of the Grand Canyon Concourse eateries, and watch the activities as the monorail regularly arrives and departs.
Grand Floridian Resort & Spa
This world-class resort supplanted the Contemporary as Disney's flagship hotel when it opened in 1988. Modeled after the Victorian-style Hotel del Coronado, which is located in San Diego, California, the Grand Floridian is easily recognizable by its red-gabled roofs, white walls and gingerbread trim. The Grand Lobby, which is more than five stories high, boasts two sparkling chandeliers, and the grounds are lined with palm trees and manicured gardens. The monorail conveniently stops under a covered area connected to the main building.
Polynesian Resort
Immerse yourself in the tranquility and slow-paced life of the South Pacific at this resort that features thatched roofs, koi ponds and tropical vegetation. The centerpiece of the resort is the Great Ceremonial House, which resembles a Tahitian lodge and greets guests with water cascades and a daily Polynesian torch-lighting ceremony. The Nanea Volcano Pool has a 40-foot-high volcano with a waterfall and tubular waterslide. Similar to the Grand Floridian, the monorail picks up guests and drops them off under a protected area connected to the main lodge.
Disney's Other Resort Hotels
While the Contemporary, the Grand Floridian and the Polynesian are the only three resort hotels on the monorail transportation route, all of Disney's hotels can be reached by using the monorail. In addition to these three stops, the monorail also connects the Magic Kingdom and EPCOT parks. From these locations, guests grab a bus ride to any one of the hotels located within the friendly confines of Walt Disney World. Traveling by monorail and bus are always free, and by doing so guests don't have to deal with the hassles of driving and parking.