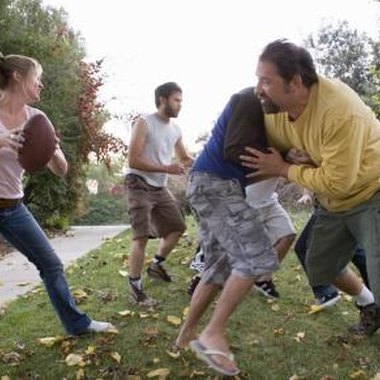 Hosting a Monday night football party is not for the faint of heart. If the party is a success, it is likely to be filled with bawdy jokes, rowdy laughter with a few shouts of joy or some curse words thrown in depending on how well your team performs. The correct decorations, party food and seating provides an appropriate base for the beloved and fanatical football fans.
Decorations
Buy some helium-filled balloons in the team colors. Tie a few to your mailbox to allow first-time guests to locate your home quickly. Add two or three more balloons to each corner of the room to add a festive air. Spread a football-themed tablecloth over the buffet table. If you can't find a football-themed tablecloth, using one in the team colors works just as well. Place a football on a kicking tee in the center of the table for your centerpiece. Hang more banners on the wall, and set other football-themed decor around the room, such as a football-shaped chip bowl or cooler.
Party Food
Set slow cookers on the buffet table, if possible in the same room with the TV. Hearty stews and spicy chilis are filling and inexpensive. Football fans enjoy nibbling on snacks all throughout the game. Provide plenty of chips and dip and other finger foods, such as meatballs, cocktail sausages and cheese cubes. Set a cooler near the buffet table so the fans don't have to venture far for a cold beer or other beverage.
Seating
Provide plenty of comfortable seating for all your guests. Bring in chairs from other rooms, or provide floor pillows to use on hearths or other areas of the room. Use fold-up chairs if you are expecting a large crowd, and push your furniture out of the way to provide an adequate view of the TV screen for all the fans. Lawn or deck chairs borrowed from friends and relatives are acceptable for this casual type of party.
Entertainment
Invite the guests to have a go at a pinata fashioned in the shape of the opposing team's mascot. This a way to let off steam before the party starts or after the game is over. This is particularly entertaining if you have a group with mixed ages, such as parents and their children. Invite the guests to arrive early for an improptu game outside to burn off energy. Provide board games, dart boards, playing cards or a DVD in another room for football widows or fans who can no longer stand to view the game if the score is so far gone the outcome is inevitable.
References
Photo Credits
Sean Murphy/Lifesize/Getty Images