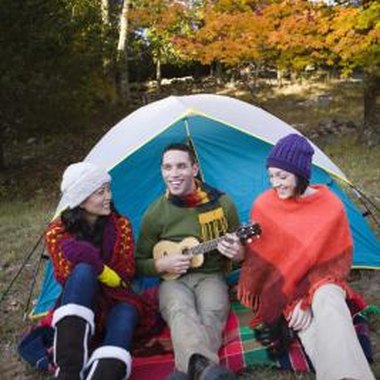 Despite the hot temperatures -- up to 120 degrees in some areas -- of the Mojave Desert, it is a tourist destination for outdoor recreation. Stretching about 54,000 square miles over four states -- Utah, California, Nevada and Arizona -- the Mojave Desert is home to numerous campgrounds and areas where camping is permitted. Campers can engage in such recreation as visiting ghost towns, canyons and hiking trails, but must always be wary of the extreme desert temperatures.
Mojave National Preserve Camping
The Mojave National Preserve (nps.gov/moja) -- a 1.6 million-acre national park in California -- contains three campgrounds. The Hole-in-the-wall Campground contains 35 campsites and is RV accessible. Rock formations surround the campground. The Mid Hills Campground has 26 campsites, though half are free of plant life due to a 2005 forest fire. This campground is not RV accessible. Neither Hole-in-the-Wall nor Mid Hills accepts reservations. Groups of more than eight campers with more than two cars must reserve a site at the Black Canyon Equestrian & Group Campgrounds.
Joshua Tree National Park Camping
The Joshua Tree National Park (nps.gov/jotr) spans parts of both the Mojave Desert and the Colorado Desert. There are nine campgrounds in the park, all of which lie in the Mojave Desert. They are the Belle, Cottonwood, Hidden Valley Jumbo Rocks, Ryan, White Tank, Black Rock, Sheep Pass and Indian Cove campgrounds. Campsites can accommodate six people with two cars and three tents. Only Black Rock and Cottonwood have running water and toilets that flush. None of the sites have shower facilities.
Death Valley National Park Camping
Death Valley National Park (nps.gov/deva) is in both California and Nevada. The park contains nine campgrounds: Sunset, Texas Spring, Stovepipe Wells, Furnace Creek, Mesquite Spring, Mahogany Flat, Thorndike, Emigrant and Wild Rose. The latter four of those campsites are free. Emigrant accommodates tents only and is the only free Death Valley National Park campground with flushing toilets.
Red Rock Canyon State Park Camping
The Red Rock Canyon State Park (parks.ca.gov/?page_id=631) is a place where two mountain ranges -- the Sierra Nevada and the El Paso -- come together in California. There is one campground in the park -- Ricardo -- that has 50 campsites. There is water at the site, but no flushing toilets. Guests cannot make reservations and the park allows no more than eight guests per campsite. The price of the campsite includes one vehicle. RVs up to 30 feet in length can access the sites, but there are no water or electricity hook-ups for recreational vehicles.
Photo Credits
Jupiterimages/Brand X Pictures/Getty Images