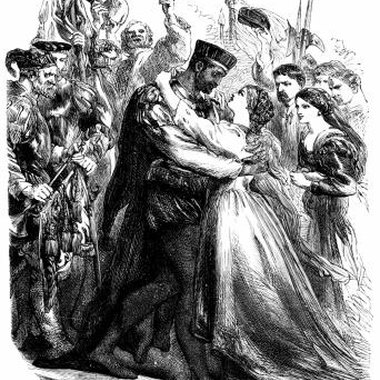 "Othello," William Shakespeare's tragic tale of love, jealousy and revenge, resonates with modern audiences as it is also a story about race relations. Othello, a general in the army of Venice, is a Moor, a North African, and has a darker complexion than the Venetians whom he serves and defends. When he passes over Iago for a promotion, Iago uses Othello's marriage to Desdemona, a Venetian, to plot his vengeance. Movie adaptations of the play range from period pieces to retellings in modern settings with contemporary characters.
"Othello" (1990)
This is a made for TV movie of a Royal Shakespeare Company production. Othello is played by opera bass-baritone Willard White, who performed the part of Falstaff in the opera, "Sir John Falstaff," based on a Shakespeare's "The Merry Wives of Windsor." Ian McKellan, who later came to fame as Gandalf in "Lord of the Rings," plays the vengeful Iago. Imogen Stubbs, who plays Desdemona, also starred as Viola in a film version of Shakespeare's "Twelfth Night." This film version, though abridged, is faithful to the script of the original play. Perhaps to add to the racial issues, the costumes are reminiscent of the U.S. Civil War.
"Othello" (1995)
Laurence Fishburne, who played Morpheus in the Matrix franchise, stars as the title character in this theatrically released version of "Othello." Kenneth Branagh, who starred as the heroic king in the movie version of Shakespeare's "Henry V," takes a villainous turn here as Iago. Swiss actress Irene Jacob has the role of Desdemona. Faithful to Shakespeare's play in setting and costume, text from the original script was significantly cut and rearranged. This movie has an R rating and includes a graphic love scene.
"Othello" (2001)
A new millennium meant new imaginings of the classic themes portrayed in the play. This BBC production places "Othello" in a London police department. Shakespeare's dialogue is gone but the storyline remains similar. Police officer John Othello rises to the rank of captain when he uses his authority to quell a potential race riot. Assistant commissioner and supposed friend, Ben Jago, becomes jealous of Othello's promotion. Jago uses Othello's white wife, Dessie Brabant, by exposing her to danger in the form of racists and falsifying DNA evidence to prove she's having an affair. John Othello is played by Eamonn Walker, Christopher Eccleston of "Doctor Who" fame plays Ben Jago, while Dessie Brabant is played by Keeley Hawes.
"O" (2001)
Set in a private high school in Charleston, South Carolina, this is another movie that uses the storyline rather than original script to tell the tale of "Othello." Odin James is the only black student in a school filled with privileged white teens. He is a talented athlete and leads the basketball team to victory. Teammate Hugo Goulding is the son of the basketball team's coach and keenly resents his father's preference for Odin both as a player and a surrogate son. Hugo uses Odin's love for his white girlfriend, Desi Brable, to plot revenge. Odin is played by Mekhi Phifer and Hugo is played by Josh Hartnett. Desi is played by Julia Stiles.
Photo Credits
Photos.com/Photos.com/Getty Images