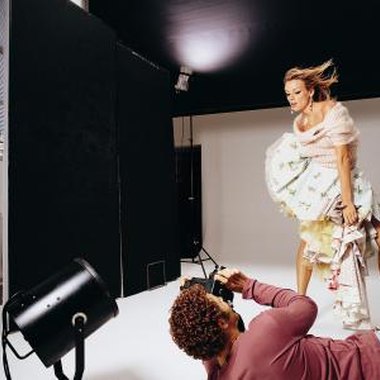 Parties are good, but themed parties are even better. One fun and inventive idea to try is a modeling birthday party. This theme works for a teen who wants to be a model or for someone in the industry -- or merely as a hilarious birthday party for a friend with a sense of humor.
Stunning Scene
As well as streamers and balloons, also hang large pictures of famous supermodels. Have a banner made that says "Have a Glamorous Birthday" or "Happy Birthday, Supermodel!" Set out issues of fashion magazines such as Cosmopolitan, Elle, Allure and Vogue. Have several of these covers blown up to hang on the walls. On the food table, make a centerpiece by filling two or three different-sized vases with lipsticks, eyeliner pencils, compacts, mascara, rouge and foundation.
Attractive Amusement
For model-themed activities, have a competition to see who has the best runway walk. No actual catwalk needed; party guests can simply take turns prancing around the room. Watch a movie about fashionable people or about models: Sex and the City, Zoolander, Gia or Breakfast at Tiffany's. See who's the best karaoke performer, using songs with titles that fit the party theme: "Pretty Woman" by Roy Orbison, "Legs" or "Sharp Dressed Man" by ZZ Top, "Beautiful Girls" by Van Halen, "Hips Don't Lie" by Shakira, "Your Body is a Wonderland" by John Mayer" and "I've Just Seen a Face" by The Beatles.
Pretty Prizes
For winners of contests and games, hand out model-themed awards. A sash that says "supermodel" or a T-shirt or tank top that says "model" is an inexpensive idea. Find magnets, soap or candles that look like legs, lips or naked ladies. Or make your own "model magnet" party favors, painting a bunch of bottle caps whatever color you like, gluing a magnet inside, then painting phrases such as "you're hot," "male model," "most beautiful," "best legs" and "looking good" onto them.
Cute Cuisine
For whatever dishes you serve, add a word to the name that ties in with the modeling birthday theme. Examples include supermodel sliders, famous fruit salad, sexy sushi, beauty BBQ pork, chesty chips with designer dip, handsome hoagies and photo fajitas. Also use this technique with drinks: catwalk cosmopolitans, makeup margaritas and model milkshakes. Bake up a batch of birthday cupcakes, and onto each pipe words like "chic," "beautiful," "cover shoot," "fashion" and "trendy."
Photo Credits
Digital Vision./Digital Vision/Getty Images