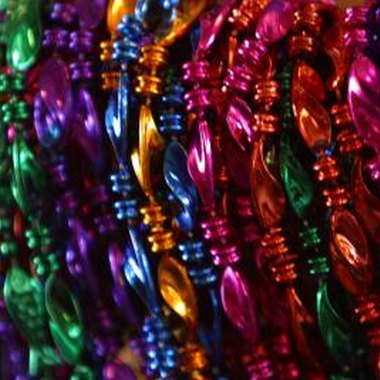 Each year, local Mardi Gras societies organize parades in Mobile, Alabama. These societies are the organizations whose members ride on the floats in the parades, showering spectators with bubble gum, candy, beads, moon pies and other items. All the Mardi Gras parades take place downtown. Most proceed at night, between 6:30 p.m. and 7:30 p.m. However, there are parades that take place in the late morning, afternoon and evening hours.
Dragon Parade
The parade organized each year by the Mystics of Time Mardi Gras society features smoke and fire-shooting dragon floats. The Mystics of Time parade, which locals commonly call the "Dragon Parade," is one of the biggest and most-attended of the season. At least three dragons --- a mother dragon and her children, along with other floats -- are included in this parade, which is always scheduled for the Saturday night before "Fat Tuesday."
Joe Cain Day Parade
The Joe Cain Day parade is affectionately called the "People's Parade." It takes place each year on the Sunday afternoon before Mardi Gras. The parade pays tribute to Joe Cain, who, according to legend, single-handedly brought Mardi Gras back to Mobile in 1866 after the Civil War by riding down the street in a horse-pulled wagon. Before the parade starts, someone dresses up as Joe Cain, who declares himself Chief Slacabamorinico, and leads the parade. Those portraying Cain's mistresses and widows follow behind on foot. Locals ride in individual floats while wearing homemade costumes.
Comic Cowboys
Everyone and everything is fair game to poke fun at during the Comic Cowboys parade. This parade is a rolling comedy show that cracks jokes related to local and national news stories, including those dealing with popular culture. The floats lack the elaborate constructions and designs that you'll see in other Mardi Gras societies. They are basic wooden box-style designs with large billboards at each end. On the billboards are hand-written and hand-drawn messages. Each year, the Comic Cowboys parade falls on the Monday before Mardi Gras in the late morning.
MAMGA Parade
The Mobile Area Mardi Gras Association parade, often called the MAMGA parade, is always scheduled for the evening of Mardi Gras. The route includes a procession through neighborhoods that were the former hubs for the city's black businesses, schools and churches. The association serves as an umbrella group for the city's black Mardi Gras societies, and brings them together for one large parade. In addition to marching bands, floats and participation by individual members of local black civic organizations, the parade features the association's court, including the year's reigning Mardi Gras king, junior king, queen and junior queen.
Photo Credits
Hemera Technologies/AbleStock.com/Getty Images