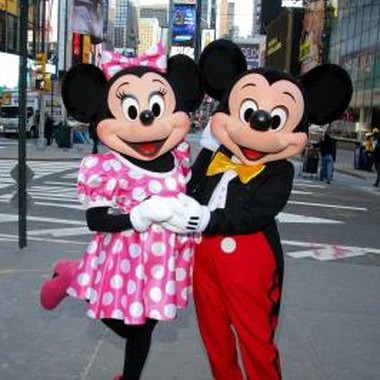 Mickey's favorite gal, Minnie, is an icon in the Disney cast of characters. With her sweet smile and polka-dotted dress, she is popular with many young girls. Use the traditional red, black and white color scheme, or go with the pink and white theme. Whichever you choose, a Minnie Mouse party is sure to please your young Disney fan.
Deocorations
With those infamous ears and polka dots, decorating is a breeze. Use mouse ear shapes as much as possible. Place them on the walls and hang them from the ceiling. Add a few circle-shaped cutouts in red or pink, depending on the color scheme. Make a banner by linking mouse ear cutouts together with ribbon. On each ear write one letter of "Happy Birthday" until the phrase is spelled completely. Hang the banner for display. Balloons are also essential. Use red, black and white balloons for the traditional Minnie Mouse colors or pink and white for that version of Minnie.
Food
Use a cookie cutter to cut sandwiches and sugar cookies into the shape of mouse ears. If your kids party uses the theme of the "Mickey Mouse Clubhouse" television show, serve hot dogs to match the "hot diggity dog" theme song. Caramel apples with marshmallows for ears and then dipped into chocolate will be a crowd pleaser. Make available a tray of cheese cubes, fruit and vegetables.
Activities
Before the party, cut out circles from black card stock, construction paper or felt. Give each party guest a black headband. Help kids glue the pre-cut ears onto the headband to wear during the party. Specify an area of the party room as a dress-up station. Stock it with ribbons, child-friendly makeup and other sparkly accessories. Play "Minnie Says" instead of "Simon Says." Print or draw a large picture of Minnie's face to hang on the wall. Cut several bows from construction paper. Blindfold each guest and have her try to stick the bow on top of Minnie's head.
Cake
Bake one large and two small round cakes. Lay them out in the shape of Minnie's face and ears and frost with colored icing. Bake a large sheet cake. Once it cools, trim edges to form a bow-shaped cake. Ice with pink and white polka dots. Another idea is to cover a cake with pink icing. Add white icing polka dots. Place a Minnie Mouse figure at the top and white icing beads around the bottom. Cupcakes can also be easily decorated in a Minnie theme. Ice cupcakes with color of your choice. Add two bite-size chocolate sandwich cookie to the top of the cupcake to look like mouse ears.
Photo Credits
Janette Pellegrini/Getty Images Entertainment/Getty Images