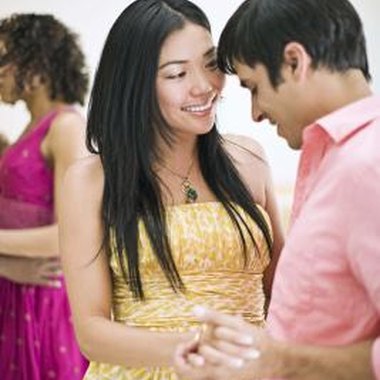 Everyone loves a party, but playing host (or hostess) can mean a messy cleanup once the bash is over, with lots of garbage. Fortunately, it is easy to reduce the amount of waste produced at a party with a few simple steps. Avoiding disposable items and having guests lend a hand makes it all the easier, guaranteeing that everyone has a good time.
Items you will need
Non-disposable plates, cups, cutlery, napkins

Boxes or containers for recycling goods

Charms for beverage glasses

Reusable decorations
Step

1
Avoid disposable plates, cups, silverware and other items. Although it might mean dishes to wash, using regular plates and cutlery means less waste.
Step

2
So guests will know which drinking glass is theirs, label each with a piece of tape or use charms, placed around the stems of glasses, to help people remember. If you do use plastic cups, have guests write their names on them with marker, so they will not have to use a new cup for every drink.
Step

3
Enforce a strict RSVP policy. When throwing a party, it is easy to overestimate how many guests there will be and end up with excess food, beverages and other items that will get thrown away. Be firm about having guests RSVP, and check in with those who do not so you have an accurate headcount. Once you know exactly how many people are attending, plan and shop accordingly to avoid purchasing excess supplies.
Step

4
Do not decorate with disposable items such as crepe streamers, balloons and ribbons that are likely to end up in the trash, as suggested by Homewise Guides. Make the party festive with music, and place flowers that guests can take home around the room to give it color. Use decorations that can become keepsakes and not garbage, such as a plush snowman for a Christmas party or a few American flags on the Fourth of July, and store them carefully for the next bash.
Step

5
Pack up leftovers and send them home with guests. At the end of a party, a host can end up with too much leftover food to store and consume before it spoils. Avoid this by having food storage containers and plastic bags on hand. When guests leave, send them home with a sample of the spread, avoiding a table of extra food that will end up in the garbage can.
Step

6
Prepare to recycle. Have boxes for plastic, glass, aluminum and, if possible, one for food waste so it can be composted. If your community offers single-stream recycling, you can have guests toss all the recyclable items into one bin for collection. Encourage guests to take their empties to the appropriate bin promptly, which will keep forgotten cans and bottles from piling up. When the party is over, haul items to the recycling center.
Photo Credits
Jupiterimages/Brand X Pictures/Getty Images