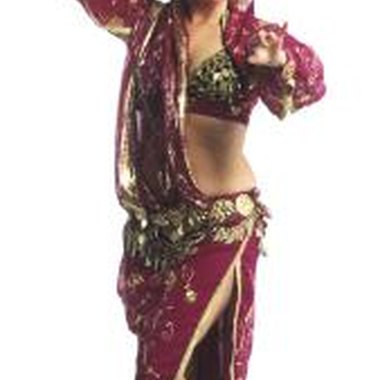 Whisk your friends and family away to the land of sand dunes, camels, pyramids and more with a Middle Eastern-themed party. Using the rich culture of Arabia, create a celebration that mixes food, music and fun for an unforgettable evening that will make everyone feel like they're a million miles from home.
Middle Eastern Feast
Treat guests to a taste of the Middle East by creating a tempting buffet of traditional Arabian foods. Many Middle Eastern dishes are easily shared among diners, making them ideal for a party when served with pita bread and crackers. Serve hummus, a creamy dip made from chickpeas, with olives and a sprinkle of paprika. Set out a tray of falafel, also made from chickpeas, and grill chicken using a spicy Lebanese-style marinade. Finish with rosewater-flavored treats for dessert.
Decor
Fill the room with Arabian atmosphere to make the party feel like a journey to a faraway land where camels roam. Drape sofas and other furniture in colorful silks to make the room feel like a mysterious harem and roll out carpets to cover the floors. Burn incense to release a beguiling scent and dim the lights, relying on candles to brighten things up. Decorate with paper cut-outs of pyramids and camels and purchase a compilation of stirring Arabic dance music to get things moving.
Live Entertainment
Entertain guests with a belly-dancing performance or lesson and get everyone moving and grooving to the exotic strains of Arabian music. Call a local talent agency or dance school and see if you can hire a belly dancer to perform at the party. If possible, see if she can also provide an introductory lesson on the basics of the art and remind guests bring loose, flowing garments so they can dance comfortably.
Photo Op
Give guests a chance to snap some great photos of themselves wearing traditional Middle Eastern clothing. Purchase a selection of Arabic clothes, such as a woman's abaya, a covering robe, and a face veil. For men, buy a thobe, a long garment resembling an oversize shirt, and a gutra, the traditional Arabic headdress. Create a faux Arabian backdrop on a white sheet or large piece of paper, with pictures of pyramids, temples and camels and have guests dress up and stand in front of it for photos.
Photo Credits
Photodisc/Photodisc/Getty Images