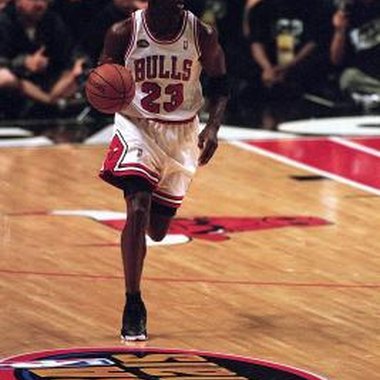 Michael Jordan is considered one of the best players in NBA history. But the star athlete's impact reached further than just the basketball court. Jordan enjoyed success in the business world and even dabbled in movies and minor league baseball. Throwing a party to honor the superstar provides you with many thematic options.
Jordan Dress-Up
Over the course of his career, Jordan has worn many uniforms, including the University of North Carolina, Chicago Bulls, Washington Wizards, USA Olympic team and Birmingham Barons of minor league baseball. Have guests arrive at the party dressed as Jordan from one of these eras. Attendees without jerseys can arrive as Jordan the businessman or Jordan the golfer.
The Supporting Cast
Jordan won six NBA championships, and while he was the primary contributor he was helped by a variety of players and coaches. At a Jordan-themed party, have the guest of honor arrive decked out in Jordan attire while the rest of the guests come as his supporting cast. Players such as Dennis Rodman, with his eccentric hair, piercings and tattoos, and Horace Grant, with his signature goggles, provide costume options. Phil Jackson, who coached Jordan on the Bulls, also has a distinct look that can be recreated.
Jordan the Pitchman
Since Jordan first arrived in the NBA, he has been endorsing a variety of products from clothing to food. Create a Jordan-themed party that involves all of these brands. Food served can include McDonald's, Wheaties and Ball Park franks. Guests can wash down the munchies with Gatorade or Coca-Cola. Additionally, guests should arrive wearing clothing from Nike's Jordan line or Hanes.
Gambling and Cigars
Jordan had his vices and two of them provide you with party themes. Jordan was a known gambler who also enjoyed the occasional cigar when relaxing or playing golf. Create a "Casino Night" based around Jordan with games of blackjack and poker and cigars handed out to each guest. The gambling does not have to include money. Instead reward winners with Jordan memorabilia.
'Space Jam'
In 1996, Jordan tried his hand at acting, playing himself in the Looney Tunes movie "Space Jam." Throw a children's party based on the movie, including decorations and costumes of Bugs Bunny, Porky Pig and the Tasmanian Devil. Play the movie or Looney Tunes cartoons on television or the "Space Jam" soundtrack on your stereo.
Retirement Party
Jordan retired from basketball three times. After the first two, he returned to the game. This aspect of Jordan's career gives you a comedic theme for someone's retirement party. Pin up posters and pictures of Jordan around the room and suggest that the retiree return, much like Jordan did. Set up a fake press conference table where you pose questions to the guest of honor about his plans for retirement.
Photo Credits
Jonathan Daniel/Getty Images Sport/Getty Images