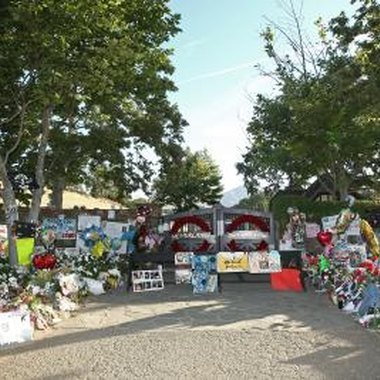 The late Michael Jackson was a beloved and controversial figure, depending on who you talk to. With 12 solo number one hits on the Billboard charts, Jackson was a pop icon. From 1988 to 2005 he resided at Neverland Ranch, a sprawling 3,000-acre estate located in Santa Barbara, California. The ranch, like the pop star, remained somewhat hidden and elusive to the public until it sold in 2005. Now, we know more about Neverland Ranch and its appeal to children and children at heart, like Jackson himself.
History
Michael Jackson purchased Neverland Ranch in 1988. Its original price is argued, but reports say it was somewhere between $16.5 and $30 million. Jackson named his ranch, "Neverland" as an homage to Peter Pan, the boy who never wanted to grow up. Jackson lived on its property for 17 years. He left in 2005 after his trial for child molestation charges. According to "Daily Mail," "The 'Thriller' singer claimed his home had been 'violated' when it was raided by 70 police officers in 2003."
Living Quarters
The estate's main house is in a French country style; its size is about 13,000 square feet. According to "TIME," much of the interior remains the same since 1988, when Jackson purchased the ranch. Inside, Jackson stored his prized possessions, which included music and film paraphernalia.
Outdoors
The ranch itself was filled with a number of activities, though some of these are gone now that Jackson no longer lives there. The ranch featured an amusement park equipped with a carousel, Ferris wheel, bumper cars, dragon wagon, kiddie roller coaster and other rides. Inside the amusement park, Jackson had two railroad trains, along with a train station. Lastly, Jackson kept a petting zoo on the premises.
Scandal at Neverland Ranch
Michael Jackson enjoyed sharing Neverland Ranch with children because he connected with them deeply. This love for children, however, was the source of some controversy for Jackson. In both 1993 and 2005, Jackson went on trial for child molestation charges for incidents that took place at Neverland Ranch. Both times, he was acquitted of those charges.
Photo Credits
Alberto E. Rodriguez/Getty Images News/Getty Images