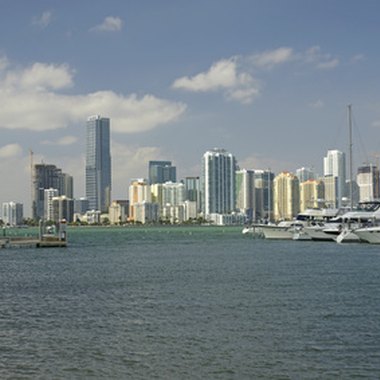 Miami Beach is separated from the city of Miami by Biscane Bay; the city is home to the neighborhood of South Beach, which is a major tourist hot spot in the area. These areas in Miami Beach are full of accommodations, but only a few of them are boutique hotels.
New Yorker Boutique Hotel
The New Yorker Boutique Hotel was designed by famed architect Norman Giller in 1953, and is located across the street from Legion Park in Miami Beach. Each room is furnished with either a queen bed, a king bed or two queen beds, as well as a plasma TV. The entire hotel is highly styled, with cyan walls, and red, white and black accents on the furniture. The SoHo Suite is larger than the standard rooms, and comes with a private balcony and stocked wet bar.
The New Hotel
As it is only one block away from the coast, the New Hotel adheres to a beach-oriented aesthetic and ambiance. The interior and exterior are both brightly colored, with a gold and white color palette running throughout. The smallest rooms come with HDTV, mini bar and electronic safe. Attached to the hotel is the Beach Market Bistro -- a restaurant with a Mediterranean menu that changes daily. The New Hotel also offers waxes, facials and massages -- in your room or in the spa.
Penguin Hotel
The Penguin Hotel is located across the street from South Beach on Ocean Drive. The Front Porch Café is located in the lobby of the hotel, which has been elected "best breakfast in town" by Miamians. In each room are kitchens with marble counters, flat-screen TVs, crystal chandeliers and a stocked wet bar. The larger rooms feature ocean views. Each of the 44 rooms in the hotel is styled and designed with different themes and colors of nature.
The Angler's Hotel
The Angler's Hotel, located off of Washington Avenue, is the culmination of the architectural design work of Henry Maloney, Allan Shulman and Ralph Choeff, and the interior design of Wallace Tutt. The two types of rooms include Studio Suites and Deluxe Suites. The former comes with a patio and balcony with a view, DVD players, surround sound, mini-bar and plasma screen TVs. The latter is two stories and comes with a private spa and two large baths. All guests have access to valet parking and room service.