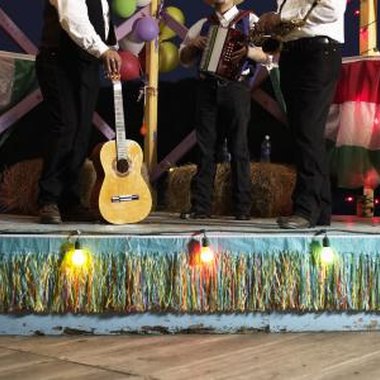 Break out the maracas and sombreros: it's time for a Mexican-themed prom. South-of-the-border celebrations promise the vibrant colors and joyous music that are associated with Mexico. With colorful decorations, catchy tunes and spicy food, high schoolers are sure to have a prom they'll always remember.
Fiesta
Throw a prom that captures the excitement of a Mexican fiesta, from colorful decorations to tasty Mexican cuisine. Illuminate the ballroom with vibrant paper lanterns in various colors and shapes, from spheres to stars. Colorful string lights or lights shaped like fiery red peppers are perfect for a Mexican fiesta. Adorn the tables in striped Mexican weavings that boast a variety of colors. For the meals, students will enjoy delicious Mexican favorites, such as fajitas or tacos.
Mexican Coast
A Mexican coast prom will make high schoolers feel as though they've traveled south of the border and are enjoying an evening on one of Mexico's beautiful beaches. Decorate the ballroom in tropical accessories, such as palm trees and centerpieces made of white beach sand and exotic flowers. Serving "virgin" cocktails, such as pina coladas or margaritas, is another way to make prom-goers feel as if they're at a Mexican beach.
Mariachi
Make Mexican music the center of prom by having a mariachi theme. Let students enjoy the sounds of Mexico by hiring a real mariachi band to perform for prom. Students will get a kick out of listening to the energetic mariachi music as they enter a ballroom adorned with pinatas and garlands crafted from bright tissue paper. Decorate each table with a bouquet of wildflowers and a festive sombrero, positioned carefully on the table for a mariachi-inspired centerpiece.
Mexican Heritage
Celebrate Mexico's rich history with a Mexican heritage prom. Deck out the ballroom in dramatic backdrops that depict a variety of locations and cultures of Mexico, from Mayan ruins to rustic churches to colorful Mexican streets. The warm glow of candles in small glass holders and metal lanterns lends a romantic, traditional glow to the space. An elaborate buffet that features many different Mexican dishes lets the students experience Mexican cuisine. Finish filling the space with giant cacti and some Mexican flags.
Photo Credits
Ryan McVay/Lifesize/Getty Images