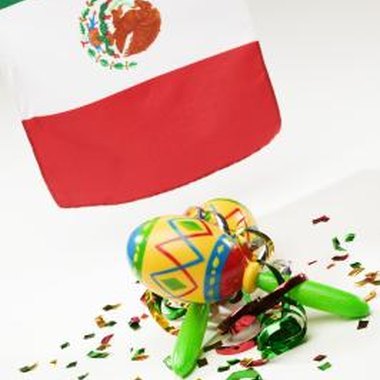 Themed parties are entertaining and often hilarious ways to celebrate with friends and family. A Mexican theme goes beyond the typical costume or 1980s party to offer guests a true fiesta. Alongside listening to Mexican music and playing Mexican games, use the colors of the Mexican flag to dictate the decorations, invitations and food for the party.
Red
The color red on the Mexican flag is said to represent traits such as bravery and strength. Incorporate the color red into your Mexican-themed party by decorating door frames and walls with red streamers and blowing up red balloons. Peppers are a big part of Mexican culture; reflect this by placing real, or plastic, red peppers in various places around the party room. Serve red foods such as spicy tomato salsa and chili, and adorn appetizer trays with sliced red peppers and strawberries. Add drops of red food coloring to tequila cocktails.
White
The color white, which represents both honesty and peace, provides a great basis for Mexican party decorations. Green and red cutlery, plates, platters and bowls stand out against white tablecloths, while basic white invitations, balloons and napkins can be dressed up with green or red images, such as peppers or cacti. Serve white tortilla chips to dip in the red salsa, as well as a variety of white Mexican wines. You can also whip up a pale cheese sauce to go with the chips, such as one made from mozzarella cheese.
Green
Green, the third color of the Mexican flag, connotes joy and hope. Alongside hanging green streamers and green balloons, use real, or fake, cacti as centerpieces and table decorations. A life-size, cardboard cut-out of a cactus adds a touch of humor to the party. Serve green food and drink such as guacamole, sliced green peppers and cucumbers, various salads, margaritas and mojitos.
Additional Ideas
Create colorful, inexpensive centerpieces from bouquets of green, white and red flowers or dishes of small chocolate candies in the same colors. You can also combine these Mexican party colors and decorate your party using the flag itself. Hang a large flag on the wall, or string banners of miniature Mexican flags across walls and table edges. For a fun party activity, have your guests indulge their inner children with a piñata in the shape of a Mexican flag.
Photo Credits
Jupiterimages/liquidlibrary/Getty Images