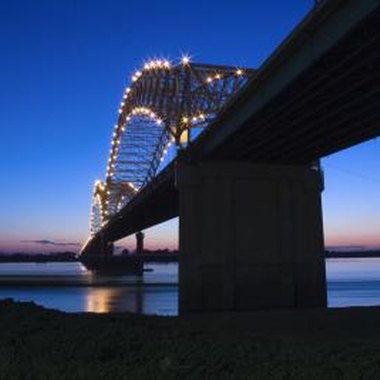 Memphis, Tennessee, famous for Graceland and Beale Street, also is home to art museums, antique stores and several historic districts. Motels in Memphis, typically reasonably priced, are close to downtown or major highways and public transportation. All but a few offer free parking, all but eliminating a visitor's need to drive in the city.
Riverfront
A monorail suspended over the harbor whisks visitors one third of a mile to Memphis' Mud Island River Park, where a river walk mimics the course of the Mississippi in miniature. Sleep Inn at Court Square, across the river from the island, is within walking distance of Beale Street. The Main Street Trolley stops at the motel and nearby restaurants deliver meals to guest rooms. Comfort Inn Downtown, a few blocks from Sleep Inn, has a fitness center and rooftop outdoor pool. Some guest rooms have Mississippi River views.
Around the Airport
Memphis International Airport is just off Interstate 240 south of downtown. More than 20 motels are a short distance from the airport, but the most convenient are along Airways Boulevard. Holiday Inn Select offers 24-hour transportation to and from the airport. The motel's Memphis Belle Restaurant specializes in Southern food and barbecue. Budget Host, formerly La Quinta, provides free transportation to the airport and businesses located nearby. The budget-friendly motel has a seasonal swimming pool and provides free continental breakfast.
On the Interstates
Interstates 69 and 55 serve Memphis and Interstate 240 diverts I-40 around the city. A number of chains operate motels at the Poplar Avenue interchange with 240 southeast of downtown and on 40 northeast of the city. They tend to be more economical than motels along the riverfront or near Memphis' major attractions. Budget-conscious travelers in search of an extended-stay property should consider Value Place, a motel built in 2007, where rooms sleeping up to four adults have full kitchens.
Downtown
A handful of motels near I-240 as it passes through downtown provide easy access to attractions like Sun Studio and Beale Street. Rodeway Inn, one block from Methodist University Hospital, offers free Wi-Fi and continental breakfast. Some rooms have Jacuzzi tubs. Travelers in search of a slightly different lodging experience stay at the Best Western Gen-X, located on the trolley line near the University of Tennessee Medical School. The 32-room, four-story, interior-corridor motel allows guests to sleep in and check out late. Rooms have free Wi-Fi, mini-fridges and microwave ovens.
Photo Credits
Thinkstock/Comstock/Getty Images