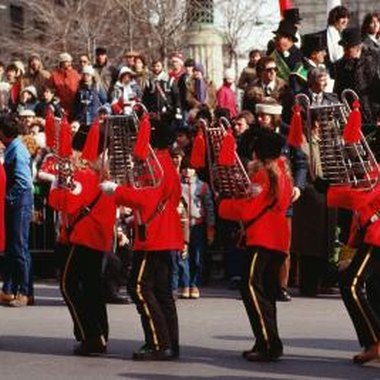 Many towns hold Memorial Day parades to commemorate America's servicemen and women. Residents and city officials of Aurora, Illinois, go to great pains to organize a special, meaningful Memorial Day parade. The town, approximately 50 minutes west of Chicago, emphasizes the importance of Memorial Day to American citizens with a parade that honors Americans who serve in the Armed Forces, both past and present.
About Aurora
Aurora's friendly small-town atmosphere belies the fact that it is the second-largest city in Illinois. Located along the Fox River, the city offers all of the conveniences of a bustling modern city but does not neglect its roots as a region steeped in American history and tradition. The four historic districts and the landmark designations of many city buildings connect residents and visitors to Aurora's place in Illinois history. The yearly Aurora Memorial Day Parade encourages Aurora residents to connect with their city's patriotism when they come out to support the parade.
Participants
The Memorial Day Parade in Aurora provides community members with the opportunity to demonstrate their respect to the servicemen and women who gave their lives while protecting America. The parade includes a pre-parade ceremony that features the East Aurora High School Navy Junior ROTC (Reserve Officers Training Corps) honor guard. The Waubonsie Valley High School Varsity singers also perform during the pre-parade ceremony. The parade itself includes local military groups and marching bands from middle schools and high schools from across Aurora. Aurora remembers its servicemen from all of America's wars through the inclusion of the 1st Infantry Division Mounted Color Guard and Marching Band of Kansas, which has ties as far back as the Civil War. Local organizers and entertainers, fire trucks, horses and marchers with bagpipes along with U.S. military veterans join the parade route.
Parade Details
The Aurora Memorial Day parade and ceremony takes place on on the Monday of Memorial Day weekend in Aurora's downtown district. The parade begins at River Street and Benton, next to the River Street Plaza and moves down Benton to Broadway, turns west on Downer Place and ends at Middle Avenue. The Aurora parade begins at noon and ends approximately one and a half hours later. The judges' stand is at the GAR Memorial Hall where observers can find a shady spot to relax.
Visiting Aurora
Visitors and residents of Aurora can take advantage of other local sites after the Memorial Day weekend ends. The Aurora Sci-tech Museum (scitechmuseum.org) has over 200 science shows and hands-on exhibits that allow children to explore the world of science. The Historical Society of Aurora (aurorahistoricalsociety.org) operates three museums, the William Tanner House Museum, the David L. Pierce Art & History Center and the Local History Research Archives, which provide an overview of Aurora's history and the personalities that shaped the city's early years. Aurora's Air Classics Museum (airclassicsmuseum.org) offers visitors an overview of the history of aircraft, types of aviation and aviation memorabilia
Photo Credits
Photos.com/Photos.com/Getty Images