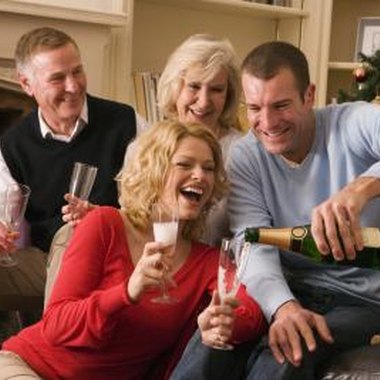 Every birthday is worthy of a party, but a decade birthday is a milestone. If a friend or loved one's birthday has hit the 60th mark, celebrate this event with a memorable party. Although some people shy away from celebrating their birthdays as they get older, it's a good time to show the birthday person how much how much you love and respect him. Use a few creative party ideas that suit the guest of honor to make his 60th birthday a blast.
Vacation Theme
A vacation party theme makes for a memorable celebration. If the birthday person dreamed of visiting a tropical island, dress up the venue with objects found on the beach. Use fishing net for table cloths and hot glue starfish and sand dollars to the netting. Align seashells of various sizes down the length of the table. Or use a centerpiece of bright tropical fruits or tropical flowers. Or maybe she always wanted to go down to Mexico and enjoy the beauty that the culture has to offer. A Mexican party theme calls for green, red and white tablecloths and a Mexican fiesta party banner. Use cactuses in an assortment of colors and heights as table centerpieces. Place a few brightly colored chili peppers on the tablecloth.
Relive the Past
Throw a party that takes guests down memory lane. Use a computer program to create a sheet that asks guests a variety of questions that pertain to the guest of honor's life. Ask questions about childhood pranks, high school crushes, favorite memories, favorite embarrassing moments and what that person means to them. Have people fill out the sheet when they enter the room. Have guests take turns reading their sheets. Everyone will enjoy reminiscing over the past 60 years.
Retro Party
Since this is a decade birthday, use the guest of honor's favorite decade as the theme. For example, if he loves the '60s, drape streamers in pink, blue, red, orange and green on the walls. Replace light bulbs with colored bulbs to set the mood. Use banner paper and neon paints to create large posters to hang on the wall that say "Peace," "Groovy" and "Make Love Not War." Have guests sit on bean bag chairs or flower-shaped pillows. Request that guests dress up in the fashion from that decade. Play popular music from that decade that has an energetic beat to it.
Classic Party
Chances are that the guest of honor grew up in a time where color TV was unheard of. Bring this idea to life with a black, white and grey party. For this party, no color is allowed in party decor. Use decorations such as balloon bouquets and streamers purely in black, white and grey. Serve a cake that matches this color theme. Rent the guest of honor's favorite classic black and white movies or television shows and play them in the background. Have guests wear clothing in black, white and grey.
Photo Credits
BananaStock/BananaStock/Getty Images