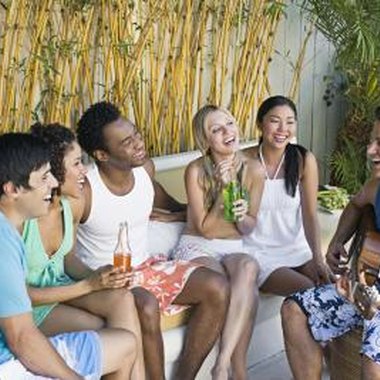 Many organizations use meet and greet parties to introduce interested individuals to members of the group and provide more information about group activities. The meet and greet parties are usually informal and encourage group members to interact with newcomers, making them feel welcome. The meet and greet system offers a low pressure way to grow your group and locate quality member prospects.
Restaurant Meet and Greet
Restaurants with meeting rooms offer your group an ideal place to host your meet and greet. Restaurants seldom charge for the meeting rooms because they know attendees will often purchase a meal during the meet and greet. Some may provide a sound system you can use and assign waitstaff who will see that glasses remain full and dishes are whisked away when your guests have finished their meals. The restaurant handles the cleanup and each person is responsible for the cost of their meal, so your responsibilities and cost are reduced. For groups with regularly scheduled meet and greets, a restaurant could reserve the room months in advance, with your assurance that you will keep coming back.
Ice Breakers
Schedule ice breakers during your meet and greet. Provide name tags as people come in and provide scavenger people hunts where attendees find people who meet specific criteria, such as having the same birthday month as you, owning an uncommon pet, and who traveled the farthest to the event. Change up the ice breaker activities each month so long-standing group members don't have the advantage. Offer a simple prize for the winner, such as a coupon for a free meal, a gift bag, a book or free entry to a paid event.
Invite Friends
Offer a prize to the group member who brings the largest number of guests to the next meet and greet. Offer small gifts to that individual's guests, such as a party platter to share. Invite members to introduce their guests and tell why they joined the group. Invite guests to explain why they decided to attend. Have group leaders circulate among the guests and invite them to become a part of the group. Provide signup sheets requesting contact emails so you can send a thank-you note to all the guests and a special note to those who joined the group. Assign each new member to a group leader who can provide them information on group meetings and opportunities.
Outdoor Activities
Sponsor a meet and greet at the home of group member who has a pool during the summer months. City parks may allow groups to reserve picnic and play areas for a group at no charge. These kinds of venues offer something more to your meet and greet than a room full of members and guests. Create a sense of playfulness with a friendly game of softball, volleyball or horseshoe pitch. Let the guests see your group having a good time together and develop a desire to be a part of the fun.
Photo Credits
Jupiterimages/Brand X Pictures/Getty Images