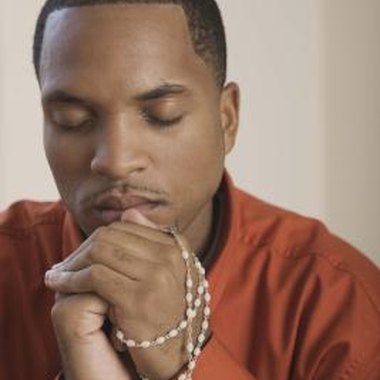 Madonna has been no stranger to controversy throughout her career. From titillating costumes to adult-themed photo shoots to song lyrics addressing socially-taboo subjects, Madonna has challenged audiences' sensibilities for decades. One such instance came with the release of 1989's "Like a Prayer," which not only caused a stir in the Christian community, but also rubbed off on Pepsi, who was cross-promoting the song and album as part of an advertisement deal with Madonna.
Overview
In the video for "Like a Prayer," a very simple story unfolds. That story, however, is loaded with politically charged themes that include race, religion and ecstasy. The story involves a woman who witnesses several gang members assault another woman. A black man comes to the assaulted woman's rescue just as the police are arriving. The police arrest the black man. A gang member who is still in the area sends the witness a look that indicates she will be hurt if she tells. The witness then goes to a local church and sees a statue of a caged saint who looks like the arrested man. She prays for an answer and, through a dream sequence, realizes that she should go to the police department and explain what really happened.
Race
The theme of race is confronted head on in "Like a Prayer." Madonna dancing in front of burning crosses stirred perhaps the most controversy. The Ku Klux Klan had long used burning crosses to intimidate minorities. By this act, Madonna confronts racist ideas that might lead some to let the innocent black rescuer stay in jail. Freeing him from jail illustrates that the principles of right and wrong must be upheld in the face of those who would cast them aside to maintain power.
Ecstasy
The lexicon of sex and religion sometimes overlaps when discussing the notion of being overcome with a heightened sensation apart from a normal state of being. Words such as "ecstasy," "passion" and "rapture" have long been used in describing both religious and physical experience. In "Like a Prayer," the witness character, while in a dream state, has an amorous physical encounter with the caged saint and, presumably, reaches a level of physical and/or religious ecstasy that makes the solution to her dilemma clear.
Crucifixion
In addition to the burning crosses, the theme of crucifixion is echoed in other elements of the video. For instance, the witness character wears a cross necklace, which indicates her belief in Christianity is important to her. More obviously, though, there is a scene during the dream sequence in which the witness character picks up a knife and accidentally cuts her palms in a pattern that is reminiscent of nail holes in the hands if the crucified Jesus. This imagery is a physical embodiment of the idea that the Christ-like action would be tell the police the truth, regardless of any consequences from those who would rather suppress the truth.
Photo Credits
Jupiterimages/Brand X Pictures/Getty Images