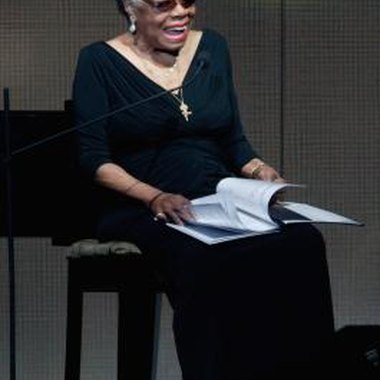 Maya Angelou is one of the prominent and internationally lauded American writers in the last half-century. Her unique, poetic voice and rare honesty characterize an expansive body of work that includes autobiographical novels, plays, poems, essays and even screenplays for film and television. In any format, Angelou's writing is distinctively her own.
Autobiographical Novels
Angelou first achieved prominence through her brutally honest autobiography, "I Know Why the Caged Bird Sings." However, despite her fearless depiction of an early rape and struggles with psychological illness, Angelou's book is more than a mere tell-all. She is able to infuse her narrative with novelistic devices and a wonderful command of the tone and rhythm of language. Angelou continued this approach throughout her subsequent autobiographies, including "Gather Together in My Name" and "The Heart of a Woman."
Poetry
Most famously, Maya Angelou delivered a recitation of her poem "On the Pulse of Morning" at the 1993 inauguration of President Bill Clinton. Her poem evoked the history of the planet as well as the diverse history of the United States, uniting the divergent strands with a sense of abiding optimism. While not all of Angelou's poems strike the same tone, she typically delves into literary, historical and natural references. Her poems rarely adhere to a traditional structure or meter, instead using the rhythm of a sermon or even a conversation.
Plays and Screenplays
Angelou's work for the stage and screen is especially diverse, from an adaption of the classical Greek character of Ajax to a musical revue called "Cabaret for Freedom." Uniting the various works is her poetic voice and a strong sense of optimism through the bitterest of struggles. In more pragmatic works, such as documentaries for PBS, Angelou shows her ability to adapt to the tone of a larger piece.
Essays
Angelou only began publishing essays later in life, with the first, "Lessons in Living," published in 1993. These expansive essays, often published as stand-alone books, reflect on the struggles of her own life and espouse a core emotional and philosophical approach to life. In a way they are an extension of her series of autobiographies, but the essays do not adhere to a narrative description of life events. Angelou writes in a clear, honest tone without any academic pretense.
References
"I Know Why the Caged Bird Sings"; Maya Angelou; 1969
"On the Pulse of Morning"; Maya Angelou; 1993
"Sophocles, Ajax"; Maya Angelou; 1974
"Lessons in Living"; Maya Angelou; 1993
Photo Credits
Daniel Boczarski/Getty Images Entertainment/Getty Images