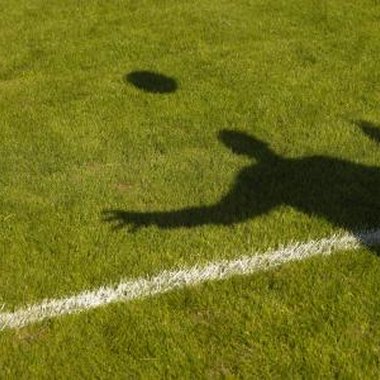 Outdoor sports such as soccer require markings on the grass to indicate boundaries, yardage lines and goal lines. Groundskeepers use a special spray paint for fields or chalk powder to mark the lines. Environmentally friendly, neither product will kill the grass when applied. The special spray paint dyes the grass while the chalk is applied to the ground surface. Spray painted lines get done by hand or by an expensive machine. A chalk spreader applies chalk to line a field.
Items you will need
Powdered chalk

Hand pushed chalk spreader
Step

1
Fill the chalk spreader with powdered chalk. The chalk spreader looks similar to a hand-pushed, two-wheeled grass seed spreader.
Step

2
Position the hand pushed chalk spreader on the desired soccer field line. Open the door on the chalk spreader with a button or a handle, depending on the model.
Step

3
Push the chalk spreader along the previous lines on the soccer field or measure and stake out the lines for the boundary, yardage and goals. Connect the stakes with string, and follow along to make the chalk lines.
Step

4
Add more powdered chalk to the chalk chamber as needed.
Step

5
Spray paint the lines with the special lawn spray paint if you want to use this method instead of the chalk. Follow pre-existing lines or stake out the lines for the boundary, yardage and goal lines. Spray paint along the staked lines. Multiple cans of the special lawn spray paint are used to mark an entire soccer field.
Photo Credits
Michael Blann/Lifesize/Getty Images