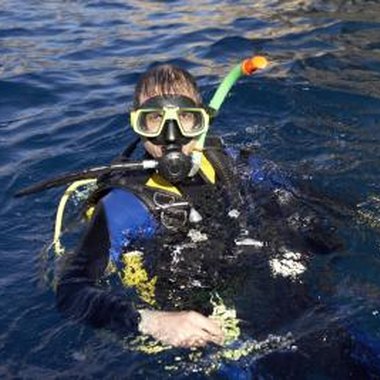 Summer camps in Florida naturally include water sports or activities, but not all include snorkeling and marine biology activities and knowledge. Most camps that do offer snorkeling are for children aged 10 and up. At this age, children are more able to use snorkeling not merely as an enjoyable summer activity, but also as a way to explore underwater sea life and learn about the principles of conservation, ecology and marine biology in general. A few camps do offer snorkeling for younger ages and also for children with ADD and learning disabilities.
Dive-In Snorkeling
Dive-In Snorkeling (diveinsnorkeling.com) is a summer camp for kids ages 5 through 12. It is based in Jupiter, Florida, but frequently uses the Intracoastal Waterway because it is clear and more calm than the ocean for younger children to snorkel in. The camp is offered every week during the summer, Monday through Friday, from 9 a.m. to 1 p.m. daily. The 30 to 35 campers each week are divided into small groups, each with an instructor, as they learn about conservation and the ecosystem. They collect, identify and release a variety of marine life and also enjoy fishing, hiking and other outdoor activities. The camp provides all equipment needed for all activities.
Seacamp
Seacamp (seacamp.org) is a marine science camp where youth ages 12 to 17 learn many aspects of marine biology according to their interests, pace and ability levels through several different courses. General Marine Sciences is a survey overview course for the younger campers and those with little previous knowledge of the subject. In Marine Communities, campers learn about the relationships between plants and animals, the behavior of local marine animals including color change and day/night differences, and see what they can uncover on a microscopic level too. In Marine Invertebrates, campers snorkel the tidal flats to examine sea life without backbones, including starfish, corals, crabs and others. Other courses are Marine Botany, Marine Geology, Marine Vertebrates, Marine Aquaria and advanced courses such as Physiology, Experimental Methods and S.C.U.B.A. Seacamp is located on Big Pine Key in the lower keys, just minutes from the last remaining coral reef in America.
Adventure Camps
The Marine Discovery Center (marinediscoverycenter.org) in New Smyrna Beach, Florida, offers a variety of camps for children of different ages. Snorkeling is introduced to children ages 10 to 14 in the Lagoonys camp as they study and explore the local lagoon, the sponge beds in the Crystal River, and the sea grasses in the Gulf of Mexico. The more advanced Aquatic Adventures camp uses surfing, snorkeling and kayaking to explore Canaveral National Seashore, Blue Springs State Park, St. John's River and the Indian River Lagoon Preserve.
SOAR Florida Standard
SOAR (soarnc.org) stands for Success Oriented Achievement Realized and is a camp for children of average or above intelligence with Attention Deficit Disorder or other learning disabilities. Youth ages 11 through 18 experience snorkeling, swimming, tubing, fishing and kayaking as they explore the Florida Keys. In addition to snorkeling the coral reef at the Looe Key Marine Sanctuary, campers also take field trips to see the museums and aquariums of Key West, and a four-day trip to Dry Tortugas where campers explore the island by snorkeling and sea kayaking.
Photo Credits
ITStock/Polka Dot/Getty Images